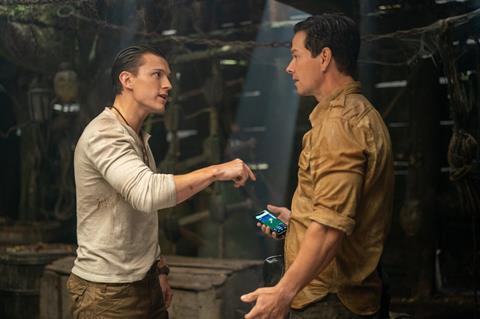 Worldwide box office February 11-13
| Rank | Film (distributor) | 3-day (World) | Cume (World) | 3-day (Int'l) | Cume (Int'l) | Territories |
| --- | --- | --- | --- | --- | --- | --- |
| 1. | The Battle At Lake Changjin II (various) | $43.7m | $524m | $43.7m | $524m | 4 |
| 2. | Too Cool To Kill (various) | $37.6m | $319.5m | $37.6m | $319.5m | 1 |
| 3. | Death On The Nile (Disney) | $33.5m | $33.5m | $20.7m | $20.7m | 48 |
| 4. | Nice View (various) | $21.6m | $159.3m | $21.6m | $159.3m | 1 |
| 5. | Uncharted (Sony) | $21.5m | $21.5m | $21.5m | $21.5m | 15 |
| 6. | Spider-Man: No Way Home (Sony) | $18.1m | $1.8bn | $11m | $1bn | 64 |
| 7. | Marry Me (Universal) | $16.5m | $16.5m | $8.5m | $8.5m | 66 |
| 8. | Boonie Bears: Back To Earth (various) | $14m | $127.2m | $14m | $127.2m | 1 |
| 9. | Sing 2 (Universal) | $13.9m | $310.3m | $11m | $166.9m | 66 |
| 10. | Jackass Forever (Paramount) | $10.7m | $47.4m | $2.7m | $10m | 10 |
Credit: Comscore, all figures estimates, click top right to expand
'Uncharted' finds box office treasure in early international markets
Sony's videogame adaptation Uncharted proved the top US studio title in international markets thanks to its launch in 15 early territories – a week ahead of the North America release.
The treasure-seeking action adventure grossed an estimated $21.5m, led by a chart-topping debut in UK/Ireland with $6.4m. Other bright spots include Russia with an estimated $4.5m and Spain with $3.5m – topping the charts in both. Uncharted also opened strongly in Ukraine, with audiences looking for distractions from present dangers to the tune of $1.3m.
An obvious comparison point for the PlayStation game adaptation is Warner Bros' Tomb Raider, which was rebooted for the big screen in 2018, starring Alicia Vikander. The film was launched in nine Asian markets in early March 2018, a week ahead of the North America release, grossing $14.2m, and led by South Korea with $2.9m. Tomb Raider went on to gross $58.3m in the US, $216.4m for international, and $274.7m worldwide.
Uncharted is a prequel to the videogame series, and stars Spider-Man's Tom Holland as a young Nathan Drake who is mentored by Mark Wahlberg's Victor Sullivan as they seek two lost ships laden with gold. Antonio Banderas also stars.
This coming weekend Uncharted lands in multiple new markets, including North America, Australia, Brazil, France, Germany, Italy, Japan, Mexico and South Korea.
Also for Sony, Spider-Man: No Way Home has cracked $1.8bn worldwide, having added an estimated $18.1m at the weekend. The totals are $1.045bn for international and $759m in North America.
'Death On The Nile' is top US film worldwide
Thanks to its arrival in the domestic North America marketplace as well as internationally, Disney's Death On The Nile proved the top US studio film overall at the weekend box office. Kenneth Branagh's second Hercule Poirot adaptation – following 2017's Murder On The Orient Express – began with an estimated $12.8m on Superbowl weekend in North America, and $20.7m in 47 international markets, combining for $33.5m worldwide.
Among the international openings, Death On The Nile scored its biggest number in Russia, with an estimated $2.5m, just ahead of UK/Ireland ($2.4m), Italy and France (both $2.1m) and then Germany ($1.4m), Australia ($1.3m) and South Korea ($1.2m). The film topped the chart in Italy, Australia, South Korea and Brazil.
Death On The Nile opened just 1% behind House Of Gucci when looking at the same suite of international markets, and 10% behind The King's Man, advises Disney. This coming weekend, the film arrives in Spain, China, Croatia and Hungary.
Murder On The Orient Express opened with a significantly stronger $28.7m in North America in November 2017 (without the Superbowl as competition), having debuted a week earlier in UK/Ireland. The film topped out with $102.8m in North America, $250.0m for international, and $352.8m worldwide.
Chinese New Year releases retain grip on global chart
Despite the arrival of major US studio contenders Death On The Nile and Uncharted, a pair of Chinese titles eclipsed the new contenders, retaining the top two spots in the global box office chart. Both released on February 1 for China's New Year holiday, The Battle At Lake Changjin II and Too Cool To Kill delivered a respective $43.7m and $37.7m in their second sessions.
After 13 days on release, 1950s-set patriotic war epic The Battle At Lake Changjin II has reached $524m – and is chasing the $903m set by the original The Battle At Lake Changjin in 2021. Xing Wenxiong's comedy Too Cool To Kill has reached $320m after 13 days.
Comedy-drama Nice View ranked fourth globally at the weekend, with $21.7m, taking the cumulative total to $159.4m.
Also in the global top 10: Chinese family animation Boonie Bears: Back To Earth, which has now reached $127.3m. Boonie Bears began life in 2012 as an animated TV series, and has yielded eight feature films in total.
'Marry Me' lays $16.5m at box office altar
Universal romantic comedy Marry Me landed in North America and 65 international markets for Valentine's weekend, beginning with a middling estimated $16.5m, roughly evenly spread between domestic ($8.0m) and international ($8.5m). Numbers might rally this evening for the actual Valentine's Day.
Marry Me failed to deliver a $1m opening in any single international market, and was led by UK/Ireland with an estimated $918,000, ahead of Australia ($891,000), Russia/CIS ($664,000), Mexico ($630,000) and Germany ($625,000).
Marry Me faced plenty of competition in most territories – for example UK/Ireland, where it competed not just with fellow new releases Uncharted and Death On The Nile, but strong holdover titles Sing 2 and Belfast.
Jennifer Lopez stars as an international singing star who impulsively marries a maths teacher (Owen Wilson) after discovering that her fiancé is cheating on her. Kat Coiro directs.
Lopez's Second Act – which despite romantic and comedic elements is not a direct genre comparison to Marry Me – grossed $72.3m worldwide in 2018. Lopez's The Back-up Plan grossed a similar $77.5m worldwide in 2010.
Also for Universal, animation Sing 2 continues its strong run, adding an estimated $11.0m in international markets and $3.0m in North America. Respective totals are $167.0m and $143.4m, combining for $310.4m. Netherlands opened with $2.0m including extensive previews. UK/Ireland leads international territories with a robust $22.3m, ahead of France ($19.0m), Australia ($13.5m) and Mexico ($13.0m).
Belfast added another estimated $2.5m (including $2.2m in international markets), and has now reached $26.3m worldwide. UK/Ireland leads all territories (including North America) with a $15.1m total.