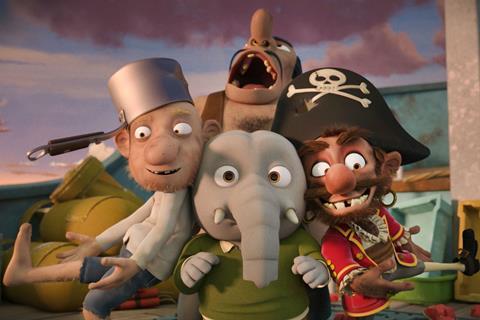 LevelK has struck a North American deal with Uncork'd Entertainment for family animation The Incredible Story Of The Giant Pear, which opens Berlinale's Generation Kplus section today (Feb 16).
LevelK has now sold the film to more than 150 countries, including recent deals to the UK and Ireland (Kaleidoscope), Turkey (FilmArti) and Portugal (Films4you).
The film, a hit at the Danish box office with more than 230,000 admissions, won two prizes at Denmark's Robert awards for Best Children's Film and Best Adapted Script. It also has a market screening in Berlin on Saturday 16.
Philip Einstein Lipski, Jørgen Lerdam and Amalie Næsby direct; Thomas Heinesen and Trine Heidegaard produce for Nordisk Film Production. The script is written by Bo Hr. Hansen based on the Danish children's book by Jakob Martin Strid. Backers are the Danish Film Institute, NFTVF, the Danish Broadcasting Corporation and MEDIA.
The story follows an elephant and a cat who set out on a great adventure to help save their village's mayor.
Previous deals include to China and Hong Kong (Bravos), Vietnam (Green Media), Southeast Asia (ASTRO), Spain and Andorra (Pack Magic), Russia/CIS (NDPlay/Kinologistika), France and Benelux (Ninety-Seven), Korea (Yejilim), Hungary and Romania (ADS), Poland (Vivarto), Middle East (Empire Networks), Estonia (Estin), Bulgaria (Pro Films), Croatia and Slovenia (Radar) and Iran (Century 21).
Keith Leopard, President of Uncork'd Entertainment, said: "The Incredible Story Of The Giant Pear is a fun tale of adventure, a beautifully made animation that I am sure will be popular among children and families in the US and Canada. I'm very excited and looking forward to sharing this film with the audiences across North America."