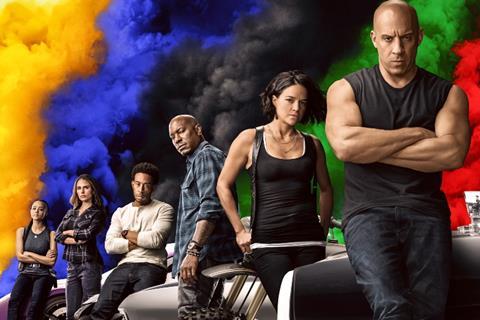 Universal has delayed the Memorial Day North American theatrical release of F9 by one month to June 25, and pushed back Minions: The Rise Of Gru by a year into summer 2022.

The F9 delay is a minor one and was expected as the studio protects its asset – believed to have cost in the region of $200m – amid lingering uncertainty over when cinemas will be able to reopen safely.
The Vin Diesel tentpole directed by Justin Lin was originally set to debut last summer before the onset of the pandemic shunted it to April 2 of this year, then May 28 to usher in the start of the Memorial Day holiday.
It is understood Universal will continue to monitor the international situation closely and set release dates opportunistically, with the possibility that some territories will launch before North America.
There is growing hope in the US after president Joe Biden pledged this week that the country was on track to receive sufficient vaccine supplies for every American adult by the end of May.
New York City has received the greenlight to reopen cinemas from this weekend. Cinemas are likely to be weighing up a return to operation in greater numbers in individual US states like Texas and Mississippi that are preparing to reopen or remove mandatory mask orders – even if that has drawn the ire of Biden.
Universal also said Minions: The Rise Of Gru will move back by one year from July 2, 2021, to July 1, 2022.