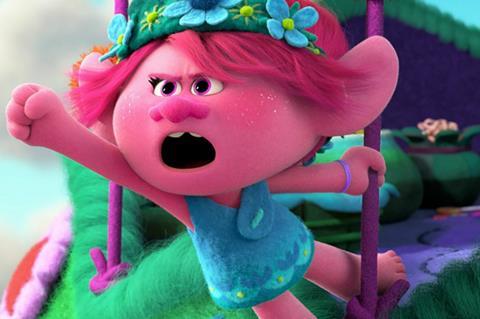 Industry insiders say the exclusive theatrical window could come under further attack after Universal said this week it would make its current films available on demand day-and-date with their global theatrical release dates.
The studio's move came in response to the coronavirus pandemic, which has forced closure of theatres in the US and around the world and put a halt on distribution pipelines.
Universal said on Monday it will make Trolls World Tour available for digital purchase on April 10, the date it had been scheduled to open in the US before cinemas closed down. Current releases The Hunt, The Invisible Man, and Emma will be made available as early as March 20. All will sell at a suggested price point of $19.99.
The sense of shock that reverberated among industry-watchers was further exacerbated when Warner Bros said later in the day that it was taking a similar move with Birds Of Prey and would make the Suicide Squad spin-off available on demand on March 24, earlier than expected, while STX is doing the same for The Gentlemen on the same day. Disney is releasing Star Wars: The Rise Of Skywalker on digital channels and putting Frozen 2 on Disney+ earlier that expected.
The announcements have reignited the debate over theatrical windows, once a 120-day sacred period when theatres enjoyed exclusivity before a film rolled out to home entertainment. Currently the exclusive window averages around 75 days.
Universal has been aggressively exploring ways to reduce the window, and backed off a plan in late 2011 to put the Ben Stiller-Eddie Murphy comedy Tower Heist on premium VOD three weeks after theatrical release when exhibitors threatened not to carry the film.
This time, observers says, things could be different.
"The studios have been waiting for this," said one executive with a long track record in distribution. "Universal has been pushing and pushing… the studios have been looking for a way to experiment with a big title [Trolls World Tour]. Jeff Shell [NBCUniversal CEO] moved quickly. Birds Of Prey is going to VOD right away and it's clear the studios are going to push to try to break the windows.
"When theatres reopen people will want to get out and go to the movies. There will be a backlog of blockbusters [due to the disrupted release schedule] so you could argue they might all agree to a 30-day window and roll these things out. Thirty days later they will all be on streaming platforms. It changes everything."
The studios' mandate to recoup costs makes them even more likely to pursue a TVOD (transactional VOD) option while theatres are closed. However the true tentpoles like Universal's F9, Disney/Marvel Studios' Black Widow, and MGM/Eon's No Time To Die have been pushed back to later dates, on the understanding that once theatres reopen these films and others of a similar scale would still be likely to generate large amounts of money in the first theatrical window.
Hal Vogel, a veteran Wall Street analyst, said changing attitudes brought on by the streaming revolution make it very hard to resist a move towards shorter theatrical exclusivity. "It's almost impossible for the public to end their reliance on more immediate access to new features," said Vogel. "The windows held pretty well… It's been eroding for many years and use to be 120 days."
He continued: "The window has narrowed and it may not be enforceable anymore. It could go away, if not this year, then in a year or two. Part of that is technology has much improved and we have a change in the public's mentality, which is now being tested by what Universal and others have done."
On Tuesday the National Association of Theatre Owners (NATO) issued a heartfelt statement. "To avoid catastrophic losses to the studios, these titles must have the fullest possible theatrical release around the world," an excerpt from the statement read. "While one or two releases may forgo theatrical release, it is our understanding from discussions with distributors that the vast majority of deferred releases will be rescheduled for theatrical release as life returns to normal."
At time of writing it remained to be seen what stance the bulk of the studios would take in the coming months.
Magnolia Pictures head Eamonn Bowles told Screen: "We pioneered the day-and-date model with great success across a variety of fantastic films. Although in recent years the general TVOD numbers have levelled off there have still been films that have performed very well. And now with our current environment, it seems the most logical arena for making our films available and we will most likely be using it more at least in the short term." Magnolia will release Slay The Dragon on VOD and digital platforms on April 3.