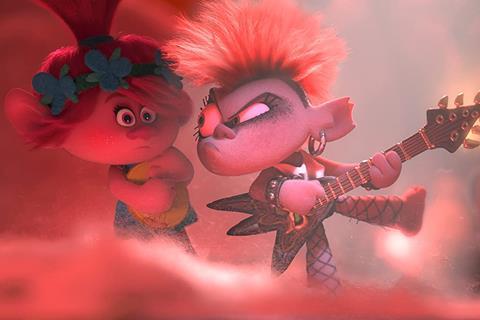 Universal Pictures said on Monday (13) that DreamWorks Animation's Trolls World Tour, the family tentpole it controversially opted to release in the home without a theatrical release when the coronavirus pandemic forced cinemas to close, has delivered the biggest digital launch in history.
At time of writing the claim could not be verified as the studio did not release numbers and home entertainment sales are not normally made public.
Universal released the film on Friday (10), the date it had been scheduled to open in theatres. It opened in the premium VOD window for $19.99 and also screened at 21 drive-in theatres that remain open in North America.
According to the studio, the family film scored the biggest opening day and opening weekend ever for a digital title while generating approximately 10 times sales of Universal's next biggest opening day for a traditional digital release, Jurassic World: Fallen Kingdom.
Sources said Trolls World Tour ranks as the number one title across all major on-demand platforms, "smashing expectations" on digital distributors including Amazon, Comcast, Apple, Vudu, Google/YouTube, DirecTV and FandangoNOW. The studio did not provide specific numbers.
Universal executives said the family film topped the charts all weekend. They will review data and wait for "a clearer picture of results that will emerge in the coming weeks before sharing additional statistics."
Additionally, other titles that Universal has made available for digital release include The Invisible Man, The Hunt and Focus Features' Emma, which the studio said were all holding well.
Walt Dohrn, who served as co-director on Trolls, directed, and Gina Shay returned to produce. David P. Smith co-directed and Dannie Festa serve as executive producer. Jonathan Aibel and Glenn Berger, Maya Forbes and Wally Wolodarsky and Elizabeth Tippet wrote the screenplay from a story by Aibel and Berger.
The exhibition community was displeased when Universal announced plans last month to release Trolls World Tour digitally, with many in the sector viewing it as an attack on the theatrical distribution window.
National Association Of Theatre Owners head John Fithian recently told Screen it was up to each theatre company to negotiate separately with the studio. "They'll each have their own discussions on what that means," Fithian said, "but it was a glaring exception to how the rest of the studios were handling the situation, so it stands up there by itself."