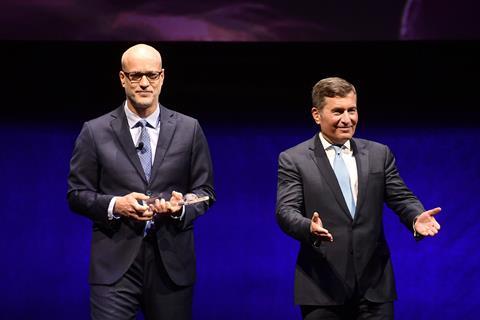 The novel coronavirus pandemic has created an unprecedented period of tumult for exhibition and amid the chaos US lobby group National Association of Theatre Owners (NATO) has been scrambling to secure aid for theatre companies of all sizes and their workers.
Last week's $2.2tn stimulus package that passed into law and a separate, far smaller $2.4m relief fund announced this week by NATO and the Will Rogers Motion Picture Pioneers Foundation, promise to bring that assistance to companies looking for loans and the sector's 150,000 employees trying to pay rent and buy groceries.
In the week when the now cancelled CinemaCon 2020 was due to kick off, NATO president and CEO John Fithian (pictured at left in a previous CinemaCon alongside MPA chief Charles Rivkin) tells Screen how the group lobbied lawmakers on Capitol Hill and what aid provisions are in place, and opines on disrupted studio release schedules, the acceleration to home entertainment, and his hopes for CinemaCon 2021.
Faced with no revenue and fixed costs, theatres find themselves in the nightmare scenario. You secured help from Congress – does the package cover all sizes of exhibitor?
We went to Congress and told them, 'Look if you're going to do something, do it now and here are our challenges.' We told them we needed two things: liquidity to manage those cash flow needs for the fixed costs during the crisis, and tax benefits. In general measure, all of that was included in the Bill, so yes the package does help big, medium and small theatre companies.
There are several different loan and loan guarantee provisions. One, which will be administered by the Small Business Administration, specifically applies to companies with fewer than 500 total employees. Then there's another section on loans that the Treasury Department will oversee that applies to companies with between 500 and 10,000 employees, and then there's a section that's available to everyone that the biggest companies will participate in. So there are three different legislative baskets of loans. This is not a bailout – these are liquidity provisions that help people get through the crisis.
What is the relief fund designed to do?
We've got 150,000 hourly employees. I'm not talking about the salaried people at the headquarters – I'm talking about the people that sell popcorn and tickets and all that kind of stuff. It's not like they're getting fired; it's just there are no shifts to assign them to… So in lobbying Congress what we did first and foremost was to think about the workers. The Relief Fund is just a few hundred bucks per worker at the very beginning of this process, which we announced on Monday [March 30], because we know it's going to take several weeks for these federal programmes to kick in and the employees need to go buy groceries now, not three weeks from now… The cut-off is if you've been in the business for five years, you can start applying for funding today. After all those people get their help if there's still money left in the fund we'll get it down to maybe three years in the business as far as we can and help people out.
Where does the relief fund money come from?
It comes out of NATO's reserve fund and that reserve fund is in large measure because of the success of CinemaCon over the years. So all those people that went to CinemaCon have essentially helped these employees in a time of crisis, which is a really cool thing. And then the Will Rogers group [a charitable organisation with studio and theatre executives on its board] raised enough money on their own to add about $1.4m. We chipped in $1m and now we're trying to raise more.
Does the stimulus package help theatre employees?
The American Congress did something really historic in this gigantic piece of legislation. And the first one was they said they'd send a direct check to anyone who makes less than $70,000, which is the vast majority of our workers. It's 1,200 bucks straight away… The second thing the legislation did was dramatically expand unemployment compensation for a period of four months. That's not a long-term thing. Obviously, you want them to come back to work when the work's available.
Legislators have said there need to be another stimulus package.
We're already working on the next [stimulus] package. This was legislative package number three. [The first two were passed recently and were relatively small]. It's not the same kind of relief: it won't be loans and loan guarantees and that kind of thing, but we're looking at issues like business interruption insurance, and what the insurance companies are covering or aren't covering. We're looking at issues like rent abatement [for exhibitors]… working something out to have the rent for those next few months delayed down the road would be very helpful.
As studios accelerate their content into the home entertainment sphere, does this presage a shift in release windows?
It's really important to differentiate two different categories of theatrical release. The first are the movies that had already been released to our cinemas before we had to shut down. We completely understand why the distributors need to accelerate their releases to the home because it's not meaningful to say they should wait another couple of months, because we won't be open for a couple of months. And you want movie fans to have something to watch while they're stuck at home. So the idea that the movies that were already in theatres have substantially accelerated is not of concern to us, and that's been misreported by some: they're all saying that the business model is changing and windows are shrinking, and that's not what's happening. These are very, very bizarre times with all the cinemas in the world, literally, with a very few exceptions, shut down right now. I'm getting calls from South Africa and Latin America, Australia, Europe, and obviously Asia's had problems for a while. So there's no place to put the movies, so by all means those are being accelerated into the home.
The second category of movies, which is the key focus for our discussions with the studios, are those movies that have not been released yet, but were scheduled for release in April, May and June. We know there's no way we're going to be open in April and May and it's looking less and less likely we'll be open for the first part of June. So the vast majority of the movies that had been scheduled for wide release in those periods are being postponed or delayed and one of two things is happening: they're either picking new release dates or they're being postponed without a specific date.
The one exception to all this is Trolls World Tour. One movie does not change a business model, so all the reporting that's talking about how this virus crisis is going to change the way movies are released is malarkey because the vast majority of movies and studios are being careful. They understand they make most of their money off theatrical and so they're just delaying the movies until later. Trolls World Tour was just the one exception to that.
NBCUniversal said Trolls World Tour would debut on premium demand on April 10, day-and-date with the (now cancelled) theatrical release. You have said theatre owners will not forget this. Is this the general attitude among theatre owners?
It's up to each individual theatre company. Negotiations between an exhibitor and distributor are a one-on-one discussion of what their future relationship will look like. They'll each have their own discussions on what that means, but it was a glaring exception to how the rest of the studios were handling the situation, so it stands up there by itself.
Have you been encouraged by the show of support for the theatre-going experience?
The brightest silver lining on this cloud has been the reaction of film directors across the whole industry, particularly the people that make the movies. It started with Christopher Nolan. He called me and said, 'What can we do?' I said, 'Tell the world what you're thinking, Chris.' And he wrote this amazing op-ed in The Washington Post. Yes, we pointed him towards The Washington Post because we wanted everybody in Congress to read it and we made sure everybody in Congress had access to it, but this is Chris Nolan talking in his passionate way about why the business is important for its art form and why the people who work in these theatres need to be protected. It kind of became a catalyst for this outpouring of support from filmmakers.
Will there be a logjam towards the end of the year? How does that get managed?
We're working with filmmakers and studios to figure out this tricky release schedule with all these postponements. Some people have said by the end of the year, it's just going to be too jammed full of movies because of all these delayed releases and they're going to cannibalise each other. I do not believe that's the case. Just as there's two or three months of movies that won't be released theatrically, there's also a production hiatus of two or three months and movies haven't been finished. And so a lot of movies that were originally scheduled for the last half of this year will have to move into 2021 because production will not be completed in time. So you take the movies that were scheduled for release in April, May and June and you put them in July through December, and then you take some of the movies that were scheduled for July through December but those productions won't be done and you move them into 2021. There's a lot of work to be done and literally we're tracking what's happening in China and we're watching the experts talk about the linked cycles of the virus and looking at dates.
Some have speculated that a logjam might force some tentpoles on to premium demand sooner. Do you agree?
They don't make their money that way. I may be in the minority but I don't think there's going to be a glut because I've talked to a lot of directors and producers who have had to shut down production and we're trying to track where those movies are scheduled. I really do believe that, not just because we're biased in representing the theatre industry, but because for their own business models, distributors with big titles who are likely to do very well theatrically would be crazy to take them straight to the home, because they'll lose the biggest revenue source they've got.
Will there need to be some kind of messaging to reassure the public before they return to theatres?
Yes, based on health and science. We closely follow the recommendations of the health officials and that's why we shut down quickly and early. We are very much in touch with and following the recommendations of the health experts and so we will just message that very clearly when we come back that we're doing it carefully. People will be so ready for this; it may take a few weeks at the beginning to start with some repertory product or whatnot, but I think when you see Warner Brothers putting a movie in August [the postponed Wonder Woman 1984] and you see Sony putting a movie in August [a couple of hours after this interview Sony pushed Peter Rabbit 2 further back to January 2021] that means that we're going to be full-blast sold out auditoriums, at least by August. Maybe July, who knows. But we will work carefully with the health experts on all that.
Like so many other events on the calendar, this year's CinemaCon was cancelled. Thoughts on CinemaCon 2021?
It will be the most important convention we've ever held. It will be the celebration of the comeback. Today would have been the first day of this year's convention, but next year will be a great celebration and we're looking forward to it.