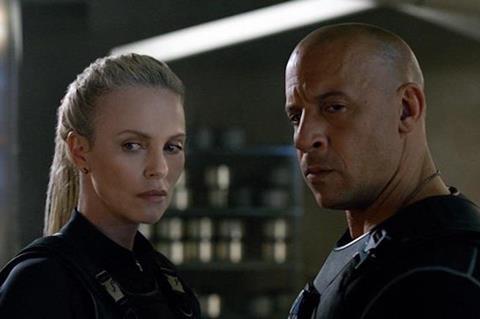 Universal Pictures posted its second highest global and international year at the box office in 2017 as 64 releases generated $5.129bn and $3.439bn, respectively, over the 12-month period ending December 31.
The international running total ranks second only to the $4.4bn registered in 2015 and is likely to rise as late receipts come in from territories. The global haul trails the $6.88bn achieved in 2015. North America generated $1.689bn.
The Fate Of The Furious was the studio's top earner in 2017 on $1.236bn worldwide and $1.009bn internationally; followed by Illumination Entertainment's Despicable Me 3 on $1.034bn worldwide, of which $768.9m came from international markets.
Tom Cruise vehicle The Mummy grossed $409.1m worldwide and $329m internationally, while Fifty Shades Darker delivered $380.9m worldwide ($266.5m internationally); Split achieved $278.3m worldwide ($140.2m); and Get Out delivered $254.3m worldwide ($78.8m).
"We've had a profile of titles from the world of Jason Blum up to The Fate Of The Furious," noted Universal Pictures International president of distribution Duncan Clark.
Fate Of The Furious, Despicable Me 3 excel
Clark hailed the Fast And The Furious franchise as "an extraordinary success story for us" since the studio reinvented the franchise on the fourth entry. "It commonly denominates success everywhere," he said. "In Europe, Latin America, Asia and particularly China it has been a tremendous story for us and we're busy on the next sequence of these films including a spin-off with Dwayne Johnson and Jason Statham."
He also cited Despicable Me 3. "It's been strong in Latin America, China, and Japan, which has been extraordinary on 7.5bn yen [approximately $66m]. Japan's a tough market and 50% of film slots go to local-language titles. It's quite rare to get above four or five billion yen."
Similarly Split and awards contender Get Out have impressed. "Once you hit the sweet spot in that horror genre it can expand and that's what we had with Get Out. At the time we didn't envision it doing $70m internationally and on top of that it's an awards contender."
China ends 2017 as Universal's top market
Every territory beat its 2016 total in local currency terms except for Iceland, which overtook the previous year when translated into the USD equivalent.
China ranked as Universal's top territory and returned $671.9m for a 19.5% share of the studio's international pie. The UK finished second on $272.5m for a 7.9% share, followed by France on $188.8m for 5.5%, Japan on $185.8m for 5.4%, and Germany in fifth place on $177.3m for 5.2%.
Rounding out the studio's top 10 markets in 2017 were: Brazil on $159m for 4.6%, Spain on $146.5m for 4.3%, Russia on $142.3m for 4.1%, Australia on $130.4m for 3.8%, and Mexico on $129.9m for $3.8%.
By region, Europe, the Middle East and Africa led the way on $1.585bn and a 46.1% share with Asia-Pacific close behind on $1.404bn and 40.8%, and Latin America on $450.5m and $13.1%.
"Brazil is a great story for us," Clark said. "We opened up our Brazil office about 15 months ago, which has been a great coup for us. Family films in that market when you hit the sweet spot can be enormously successful.
"China has experienced astronomical theatrical growth since 2006 when they began the process of urbanisation. They've got about 50,000 screens and you can look towards 70-80,000 in the next few years."
Local-language highlights
Among the local-language highlights were Perfectos Desconocidos, which scored the second highest debut for a Spanish title in 2017 behind Paramount's Tadeo Jones 2. The $15.2m running total means it ranks behind Tadeo Jones 2 on $23.2m as the second highest grossing Spanish release of the year.
Spanish mystery Marrowbone ended its 2017 run as the third biggest Spanish release on $8.4m, while French horror Raw ended the year on $2.6m.
December 2017 Pitch Perfect 3 enters the new year on more than $100m worldwide as executives look ahead to the new crop of titles. Highlights are expected to include 50 Shades Freed in February, Legendary Entertainment's Pacific Rim Uprising starring John Boyega in March, Jurassic World: Fallen Kingdom in June, Mamma Mia! Here We Go Again and Legendary's Dwayne Johnson tentpole Skyscraper in July, Halloween in October, and Mortal Engines produced and co-written by Peter Jackson in December.
The 2018 pipeline includes: Oscar winner Damien Chazelle's First Man starring his La La Land lead man Ryan Gosling; Untitled Robert Zemeckis Project based on the documentary Marwencol; several films from Jason Blum led by this week's release of Insidious: The Last Key; and international roll-outs of awards contenders Lady Bird, Darkest Hour, and Phantom Thread.