Plus: Aaron Sorkin to give online screenwriting lessons on MasterClass; and more…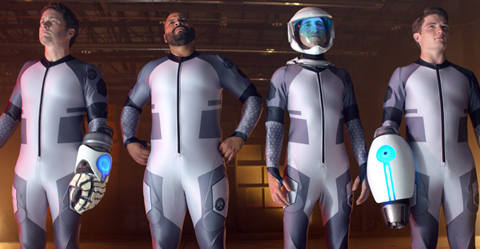 The sales and distribution company has signed territories on the sci-fi action comedy from Rooster Teeth.
AT Entertainment has licensed rights for Japan and will launch the film theatrically on July 19 followed by home video in late August. AT Entertainment handled recent releases such as Roland Emmerich's historical drama Stonewall and horror-romance Spring.
Edel AG has acquired rights for German-speaking Europe sometime after February 2017. Matt Hullum's Indiegogo-funded Lazer Team launched on YouTube Red in February and grossed $1.2m theatrically in the US via Amplify.
Online education platform MasterClass has signed up Aaron Sorkin as a screenwriting instructor. Sorkin's MasterClass will include more than 25 video lessons along with a 30+ page workbook and interactive assignments. Pre-enrolment has opened for what is expected to be a full class in summer. Click here for further details.
Short film channel ShortsHD is teaming up with the Hispanic Heritage Foundation to launch The Hispanic Heritage Short Film Award Competition. The overall winner will receive a $10,000 cash prize and a free trip to Washington D.C. to screen his or her winning short film at the Hispanic Heritage Awards on September 22. The contest will be announced on June 25 during the 2016 NALIP Media Summit.
The Redford Center has launched its Redford Center Grants, funded by The New York Community Trust to support feature-length projects in early development focused on driving awareness, education and tangible action on a variety of environmental topics. For details click here.
Stowe Story Labs' first annual SSL 'Doc Day' will take place in Stowe, Vermont, on September 14, towards the end of the Stowe Story Labs Narrative Workshop that runs from September 10-13. Jose Rodriguez, director of documentary programming at Tribeca Film Institute, organises SSL 'Doc Day'.
Universal Pictures' Ouija 2 has been retitled Ouija: Origin Of Evil and will be released on its previously announced date of October 21.