Plus:Art Directors Guild nominees; Laura Lancaster, Sandra Condito on the move; production wraps on People You May Know; and more…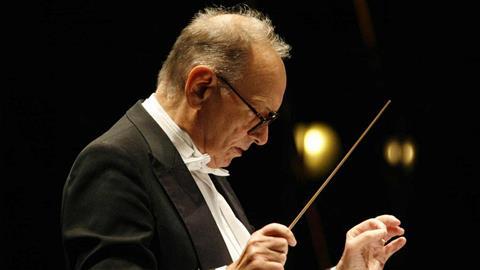 Ennio Morricone will be honoured for his score on The Hateful Eight at the 11th Italia Film, Fashion and Art Fest in Hollywood, which runs February 21-27 at the Chinese 6 Theatres.

The five-time Oscar nominee has a Golden Globe nomination for his latest score for The Hateful Eight. His credits include Malena, Bugsy, The Untouchables, The Mission and Days Of Heaven. He received an honourary Oscar in 2007.
Bridge Of Spies, Crimson Peak, The Martian, The Revenant, Jurassic World and Trumbo are among the Art Directors Guild film nominees across various categories for the 20th Annual Excellence in Production Design in Beverly Hills on January 31. For the full line-up click here.


Laura Lancaster has been named president of Alcon Television Group reporting to Alcon Entertainment co-founders and co-CEO's Broderick Johnson and Andrew Kosove. Lancaster previously served as evp of drama programming for NBC Entertainment.


Straight Up Films has hired Sandra Condito as president of production. The former Miramax/Dimension Films executive was involved with Robert Rodriguez's Troublemaker Studios and developed Spy Kids, Sin City and Grindhouse. She most recently handled acquisitions, development, and production at Pantelion Films and will report to Straight Up co-founders and co-CEO's Marisa Polvino and Kate Cohen.


Journey To Space, Humpback Whales and Flight Of The Butterflies are among the first slate of family-friendly films Shout! Factory will release in the 4K Ultra HD format in 2016. Each film was shot in Imax technology and screened in Imax theatres. Garrett Lee acquired the titles for Shout! Factory.


Digital Domain has hired Daniel Rosen as vp of technology. Rosen is an expert in strategic technological design, development and implementation and will report to Digital Domain president O.D Welch.


Los Angeles-based production company Red Ladders Entertainment and producer Shelley Stevens have wrapped principal photography on Sherwin Shilati's drama about the effects of social media, People You May Know. Nick Thune, Halston Sage and Kaily Westbrook star. Once Upon a Time Productions serves as executive producer. CAA represents North American sales.