Plus: Warner Bros dates Annabelle 2, Untitled event movie; FilmRise acquires The Bad Kids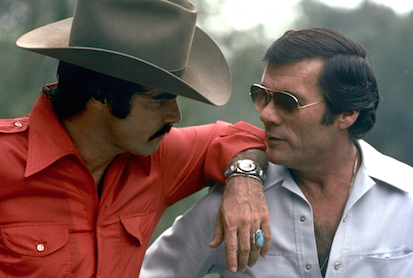 The San Francisco Film Society has announced the Big Nights selections for the 59th San Francisco International Film Festival, set to run from April 21–May 5.
Whit Stillman's Love & Friendship starring Kate Beckinsale and Chloe Sevigny will open the festival and the closing night selection is Jesse Moss' documentary The Bandit (pictured), a look at the making of the Burt Reynolds film Smokey And The Bandit.
James Schamus' feature directorial debut Indignation is the Centrepiece selection.
Warner Bros has scheduled a raft of 2017 releases and announced on Tuesday it will open the New Line Cinema and Village Roadshow comedy Fist Fight on February 17. New Line's horror film Annabelle 2 will debut on May 19, Untitled WB Event Film on August 11, and Ben Affleck crime drama Live By Night on October 20.
FilmRise has acquired worldwide rights from Preferred Content to Keith Fulton and Lou Pepe's Sundance documentary The Bad Kids. The film about a crusading school headmaster will receive a theatrical release in September and make its television debut on the upcoming season of the PBS series Independent Lens.
XLrator Media has acquired North American rights to the AAU basketball documentary At All Costsand will release the film in autumn on its PACE multicultural label. Mike Nicoll's film follows two of America's top high school basketball prospects in their pursuit of success. XLrator brokered the deal with Nicoll.
Ang Lee will receive the Provincetown International Film Festival's Filmmaker On The Edge Award and producer Effie Brown will deliver the keynote speech at the annual Evan Lawson Filmmaker Brunch on the final day of the festival. The event runs from June 15-19 in Massachusetts.
Sony has set its CinemaCon presentation for April 12, when executives will tell attendees about the upcoming slate for summer and beyond and introduce special guests to the stage. CinemaCon runs in Caesars Palace in Las Vegas from April 11-14.
Participant Media has appointed Bob Pilon to the position of executive vice president, social impact. Pilon most recently served as chief development officer for The ONE Campaign and will report to CEO David Linde and COO Sam Neswick.