The iconic filmmaker will receive the Writers Guild Of America, West's 2017 Laurel Award for screenwriting achievement in recognition of his body of work.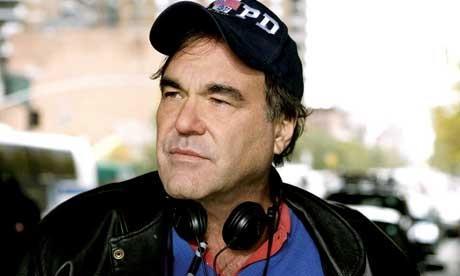 Stone, whose latest film Snowden has earned plaudits, will be honoured at the Guild's awards show in Beverly Hills on February 19.
"Oliver Stone may be our most committed screenwriter, using an unparalleled sense of conflict and drama to define the past half century," said WGAW president Howard A. Rodman. "Stone's Vietnam trilogy – Platoon, Born On The Fourth Of July, Heaven & Earth– not only illuminated the war, but made us face its consequences.

"His unofficial and extraordinary history of the 1960s and 1970s – from JFK and The Doors through Nixon and Wall Street – wove a coherent narrative from incoherent facts. His dialogue is always memorable: think of Gordon Gekko's 'greed is good,' or Tony Manero's 182 'fucks' in Scarface.

"But even Stone's most amoral characters are, in the end, like us: all too human. Stone has held a mirror up to our times, and dares us again and again to look at our nation – and ourselves – without turning away."
"As a young screenwriter I remember seeing so many I admired graced with the Laurel Award, and I never expected I'd be considered their peer," Stone said. "I am most honoured to accept this great award."
Stone won best director Oscars for Platoon and Born On The Fourth Of July and the best adapted screenplay Oscar for Midnight Express.
Cinema Guild has acquired North American rights from CAA to Theo Anthony's debut feature documentary Rat Film, which premiered at the Locarno Film Festival and will head to what a press release said would be a "major US spring festival this spring". Tribeca and SXSW both take place in spring.
Fathom Event has orchestrated Lost In London LIVE – a live US screening on January 19 of a performance of Lost In London, a play written by and starring Woody Harrelson alongside Owen Wilson and Willie Nelson. Ken Kao of Waypoint Entertainment will produce alongside Harrelson. The play follows Harrelson, loosely playing himself as he struggles to get home to his family.
Gene Allen, who won the production design Oscar for My Fair Lady, A Star is Born and Les Girls, will be inducted into the Art Directors Guild's Hall Of Fame at the 21st annual Art Directors Guild Excellence In Production Design Awards on February 11.
American Film Institute brass said on Thursday that that six documentary projects that screened at AFI DOCS 2016 in Washington DC have been selected to receive funding from the AFI DOCS/NBCUniversal Impact Grants. The films are: Almost Sunrise by Michael Collins; Care by Deirdre Fishel; Check It by Toby Oppenheimer; Newtown by Kim A. Snyder; Raising Bertie by Margaret Byrne; and They Call Us Monsters by Ben Lear.
The Santa Barbara International Film Festival will honour Manchester By The Sea stars Casey Affleck and Michelle Williams with the Cinema Vanguard Award on February 5.