Plus: The Orchard acquires Rainbow Time; FilmRise takes My Father Die; and more…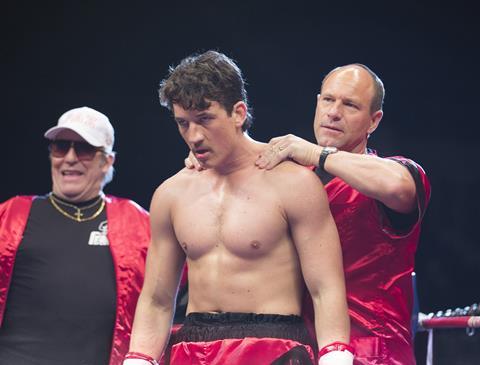 Open Road will open Bleed For This, the Miles Teller starrer about boxing champion Vinny 'The Pazmanian Devil' Pazienza, in limited release on November 4 and expand wide on November 23.
Pazienza famously recovered from a near-fatal car accident to reclaim his world title belt. Aaron Eckhart also stars. Ben Younger directs.
Open Road paid $4m for US rights after watching the promo last year in Cannes, when the Solution Entertainment Group cut a multiple-territory del with Sony.
The Orchard has acquired worldwide rights to Linas Phillips' SXSW comedy Rainbow Time starring Phillips, Melanie Lynskey, Timm Sharp, Artemis Pebdani, Jay Duplass, and Tobin Bell. ICM Partners and Submarine Entertainment represented the film-makers.
FilmRise has picked up exclusive worldwide distribution rights from CAA to Sean Brosnan's debut feature My Father Die. The revenge thriller premiered at SXSW and will receive a theatrical release this winter. Brosnan is the son of Pierce Brosnan, who produces alongside his son's producing partner at KnightMarcher, Sanja Banic, and Orian Williams. Joe Anderson, John Schneider and Candace Smith star.
BOND/360 has struck a partnership with Danish Broadcast Group division DR Sales to co-fund select documentaries and represent rights for the worldwide market. Kicking off the alliance are Tiny Tim: An American Idol, and The Michelin Film – Reaching For The Stars.
Universal Pictures will release Untitled Universal Monster Franchise Film on February 15, 2019. The Alex Kurtzman and Chris Morgan project will follow the June 9, 2017, release of The Mummy starring Tom Cruise, and another untitled monster franchise release on April 13, 2018, as part of the studio's initiative to raid the vaults and reboot its classic monster properties.