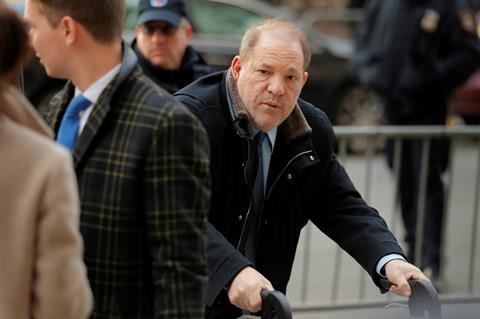 A New York federal judge has rejected the settlement reached a few weeks ago by Harvey Weinstein and The Weinstein Company Holdings with a number of women who accused the imprisoned former mogul of sexual misconduct and harassment.
After a brief hearing on Tuesday (July 14), US District Judge Alvin Hellerstein said: "The idea that Harvey Weinstein can get a defense fund ahead of the claimants is obnoxious."
"I will not give preliminary approval to the settlement," the judge concluded.
The settlement would have created an $18.9m fund for victims paid by insurance companies and would have settled most of the civil claims against Weinstein and the The Weinstein Company.
After the ruling, Wigdor, Mintzer and Arbeit, the law firm representing six of the women who have accused Weinstein, issued a statement: "We have been saying for over a year and a half that the settlement terms and conditions were unfair and should never be imposed on sexual assault survivors," the statement read. "We were surprised that class counsel and the New York Attorney General did not recognise this fact but are pleased that Judge Hellerstein swiftly rejected the one-sided proposal. On behalf of our clients, we look forward to pursuing justice against Harvey Weinstein and his many enablers."
On Monday (July 13), the law firm had filed a court document opposing the proposed settlement.
The New York Attorney Generals Office is now said to be reviewing the settlement rejection and determining its next move in the case.