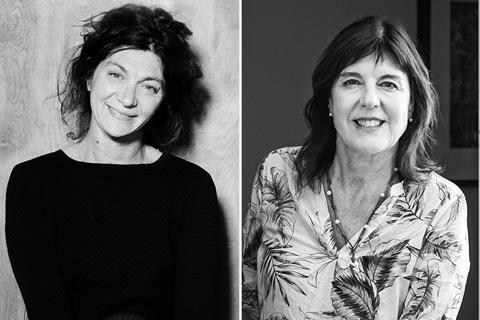 Industry veteran Nadia Dresti has stepped down as head of Locarno Pro, the Swiss festival's industry section, after 20 years at the helm.
She is to be replaced by Valentina Merli, founder of Paris-based Misia Films.
Dresti, who is remaining with Locarno as an international advisor, will accompany Merli to Berlin and Cannes this year to help the preparations for this year's edition of Locarno which takes place August 5-15.
"Over the 20 years of my tenure, Nadia has been a priceless asset for the festival because of her remarkable skills, network of contacts and determination to look to the future," said Marco Solari, president of the Locarno Film Festival. "Without her, Locarno Pro as we know it today could never have come into being. I am of course delighted that she will be staying close to our Festival on a consultancy basis."
Dresti says she took the decision to step down just before 2019 festival last August.
"Until last year, I felt I still had things to bring and new ideas. Then, suddenly, this year, I realised everything worked so well," Dresti explained. "I am somebody who really likes challenges. When things are working so well, I feel like it is time for me to go."
Valentina Merli
Merli has extensive sales agency experience having worked as head of sales for Paulo Branco's Gemini Films and also as head of sales for France's Pyramide. In her new role she will work closely with Sophie Bourdon, deputy head of Locarno Pro and head of Open Doors
"The Locarno Film Festival is a vital strategic venue for auteur filmmaking," Lili Hinstin, artistic director of the Locarno Film Festival. "Locarno Pro has to reflect that identity, because the real challenge is to allow this kind of cinema to flourish, by fostering the availability and continuity of its market opportunities."
The role is not a full- time job and Merli will continue to be involved with Misia Films alongside her Locarno work.
"You don't need to be there 100% of the time," said Dresti. "Valentina is for sure the right person. She is calm, she is well known."
The festival's various industry events were re-branded as Locarno Pro in 2018.
Asked what she was proudest of from her time heading industry activities in Locarno, Dresti cited the Industry Academy, the training programme with strong European and International dimensions, created to help young professionals extend their network in the field of international sales, marketing, distribution (including the new platforms), exhibition and programming.
"I think I really leave a legacy for the younger generation to give them the shortcut to understand the industry and to build an international circuit."
As an advisor, Dresti hopes to continue her work with the Academy.
When Dresti started at Locarno under then festival head Marco Muller, a handful of buyers would attend to see the films. Now, the festival has a fully- fledged industry programme with many different sections and partnerships. "Locarno Pro can only grow," said Dresti.