Sales agent Coproduction Office has closed multiple deals on the feature doc, whose subjects will be on the Lido.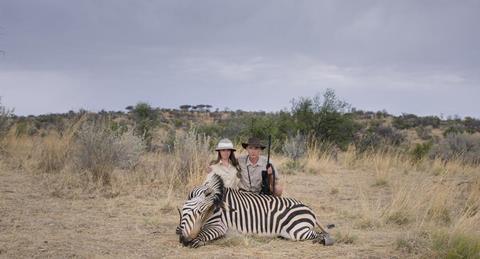 Maverick Austrian director Ulrich Seidl will be accompanied by a family of safari hunters this week in Venice for the world premiere of his new film.
Safari (sold by Coproduction Office and also screening at TIFF) is a feature documentary following German and Austrian hunting tourists as they travel through the African bush, stalking and massacring the local wildlife.
The film is billed as "a vacation movie about killing, a movie about human nature."
The safari hunting family featured in the film will be coming to the Lido to attend the Venice screening. However, Seidl has told Screen that he will not "feed" these hunters to the media and that he feels "a certain responsibility to them." They will not be doing any media interviews and will not attend the film's press conference.
"My opinion is not their opinion and they are aware that my opinion is not their opinion but I have to protect them a little bit," said the director, who has twice played in competition on the Lido.
The director said that the hunters were "aware of the negative feedback" that safaris receive in the media but that they are prepared to deal with it. "I showed all of them the film and they're fine with how they come across and how they are depicted."
Seidl first encountered some of his subjects when making his previous film In The Basement (2014), about what Austrians get up to in their cellars.
"There are connections between the two films," the director says. "The elderly couple in In The Basement who had all those hunting trophies connected to something I had in my head already, which was the issue of vacation. The vacation and the hunting connected through them and brought me to this next project."
Seidl insists that the documentary does not set out to ridicule its subjects. "I always start out a film without a preconception. I hope that since the film looks at the way of life of these people and is descriptive of their feelings that I am sympathetic to them."
"A question of power"
The director suggests that it is highly unlikely that audiences will emerge from screenings with a desire to go hunting themselves. Instead, they might begin to understasnd why the film's subjects are so drawn to safari. It is, he suggests, "a question of power, the power to kill an animal."
"They (the hunters) are very anxious before finding and shooting the animal…there is all this excitement that builds up, and then there is this relaxation after managing to kill the animal. Then there is the posing with the dead animal that crowns this achievement. These are things you don't know if you are not a hunter. I hope I have managed in describing that this lust from hunting comes from these feelings you get: the excitement and then the release afterwards."
On the eve of Venice, Coproduction Office has confirmed various new pre-sales on Safari, among them Austria (Stadtkino), Germany (Neue Visionen), Switzerland (Outside the box), Denmark (Scanbox), Poland (Against Gravity), Czech Republic (Film Europe), Hungary (Cirko), the Baltics (Must Käsi) and ex-Yugoslavia (Demiurg).
Seidl has also given details of his forthcoming projects.
The Austrian director is still working on his ambitious period drama Herr Grasl. "It has been there for a long time and is still there but has enormous financing problems because it is a period piece," the director explained.
While he waits to shoot the film, he will be tackling another project first - a new fiction film called Böse Spiele (Evil Games). It will star Michael Thomas and Georg Friedrich as two brothers who left home many years before. One has gone to Romania, the other to Italy. After many years, following the death of their mother, they have a fraught reunion. Coproduction Office is again handling sales and coproducing. Seidl is producing himself and the film, which has a budget of $5m (€4.5m). Shooting is due to begin next February.
Safari is an Ulrich Seidl Film's production (Ulrich Seidl) and was co-produced with Danish Documentary Production (Sigrid Jonsson Dyekjær), Arte G.E.I.E. and WDR, and with the participation of the Österreichisches film Institute, the Danish Film Institute, Abteilung Kunst und Kultur - Das Land Niederösterreich, DR and ORF Film/Fernseh-Abkommen.