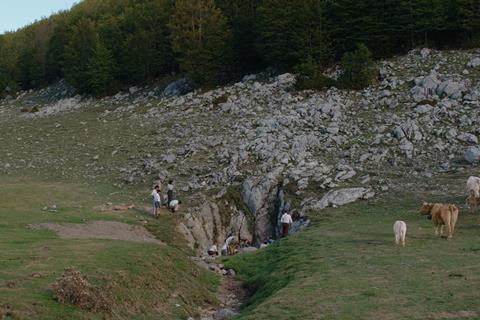 Italian director Michelangelo Frammartino's cave journey drama Il Buco has been racking up sales for the Paris and Berlin-based Coproduction Office ahead of its world premiere in Venice Competition this week.
Sales include to France (Les Films du Losange), UK (New Wave), Denmark (Ost for Paradis), ex-Yugoslavia (Demiurg), Turkey (Filmarti), Baltics (Must Kasi) and Taiwan (Hooray!).
Lucky Red will release the film in Italy in Q2 2022 as previously announced.
Set in the early 1960s, the film stars Paolo Cossi, Jacopo Elia, Denise Trombin and Nicola Lanzs. It follows young speleologists as they venture far beneath the earth's surface toward Europe's deepest cave in the remote Calabrian countryside. An old shepherd's solitary life begins to interweave with the group's journey.
Shot on location, Il Buco was produced through Doppio Nodo Double Bind (Marco Serrecchia), Essential Filmproduktion, Société Parisienne de Production supported by MIC - Direzione Generale Cinema, Eurimages, Calabria Film Commission, Regione Lazio, CNC (Aide aux cinémas du monde), Centre National de la Cinématographie - Institut Français, Arte France Cinéma, ZDF/ Arte, Medienboard Berlin Brandenburg, Cinereach with the collaboration and patronage of Parco Nazionale del Pollino, Comune di San Lorenzo Bellizzi, Società Speleologica Italiana.
Frammartino first had the idea of exploring what he has called the "silent blackness of the Bifurto Abyss" back in 2007 when he was shooting his feature Le Quattro Volte in Calabria and was shown the sinkhole which leads to the cave.
"I was perplexed, disappointed," the director said. "The mayor, on the other hand, enthusiastic and proud, threw a large stone into that void. It got swallowed by darkness. The bottom was so deep that nothing could be seen nor heard. That disappearance, that lack of response, gave me a very strong emotion. That strange place stuck with me."
Il Buco headlines Coproduction Office's autumn slate. The company is also pre-selling the new drama from Austrian filmmaker Ulrich Seidl, which is in post-production and scheduled for release next year.