Duo will collect Golden Lions for lifetime achievement at premiere of Our Souls At Night.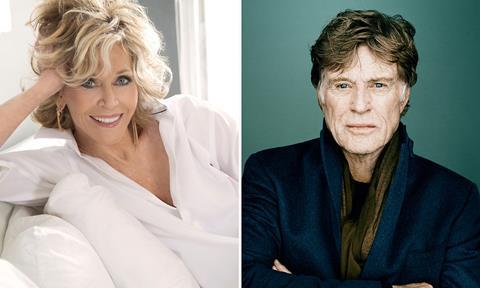 Jane Fonda and Robert Redford will be awarded the Golden Lion for lifetime achievement at the 74th Venice International Film Festival (30 August – 9 September).
They will collect the prizes before the world premiere of their new Netflix original film Our Souls At Night on 1 September in the Sala Grande of the Palazzo del Cinema (Lido di Venezia).
The film is directed Ritesh Batra, stars Fonda and Redford and is produced by Redford's company Wildwood Enterprises, Inc.
It's based on the novel by Kent Haruf and is adapted for the screen by Scott Neustadter and Michael H. Weber (The Fault In Our Stars). It will launch globally on Netflix later this year.
Director of the Venice Film Festival, Alberto Barbera, said: "Few Hollywood legends have demonstrated such determination and courage over the course of their professional career as Jane Fonda. Her life has been marked by intense passion in her pursuit of freedom from every type of conformism, with a touching and vulnerable generosity. At times a political and social activist, a sex symbol, a writer, a feminist icon, a producer, and a prophet of physical fitness, but above all an extraordinarily successful and talented actress, Jane Fonda is one of the great protagonists of contemporary International cinema.
He continued: "Actor, director, producer, environmentalist, founder and soul of that brilliant experiment in film called Sundance - whether in front or behind the camera, advocating for the cause of independent cinema or the cause of our planet, Robert Redford has led us through almost five decades of compelling filmmaking and advocacy with a combination of rigor, intelligence and grace that is virtually unsurpassed."
Earlier this month US actress Annette Bening was named president of the international jury for this year's Venice International Film Festival.