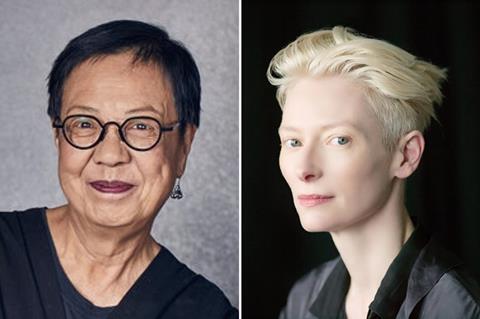 UK actress Tilda Swinton and Hong Kong filmmaker Ann Hui will receive Golden Lions for lifetime achievement at the 77th Venice International Film Festival (September 2-12, 2020).
The duo were chosen by the Biennale board of directors on the recommendation of festival director Alberto Barbera.
"Tilda Swinton is unanimously recognised as one of the most original and powerful performers to establish herself at the end of the last century," said Barbera. "Her uniqueness lies in her commanding and incomparable personality, uncommon versatility, and an ability to pass from the most radical art-house cinema to big Hollywood productions, without ever eschewing her inexhaustible need to bring to life unclassifiable and uncommon characters."
Of Hui he said: "Ann Hui is one of Asia's most respected, prolific, and versatile directors of our times; her career spans four decades and touches every film genre. From the outset, she has been acknowledged as one of the pivotal figures of the so-called Hong Kong New Wave – the film movement which revolutionized Hong Kong's movies during the 1970s and '80s, transforming the cosmopolitan city into one of the most energetic, creative centers of the decade."
Swinton has starred in films including Edward II, Orlando, Only Lovers Left Alive, We Need To Talk About Kevin, A Bigger Splash, Snowpiercer and Wes Anderson's upcoming The French Dispatch.
Hui's films include Boat People and Song Of The Exile, both of which screened at Cannes, Berlin titles Summer Snow and Ordinary Heroes, and A Simple Life and The Golden Era, which appeared at Venice. She has won six best director prizes at the Hong Kong Film Awards.
This year's Venice line-up will be announced on July 28.