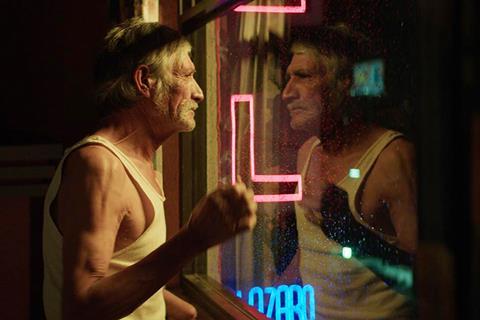 Mexican director Carlos Eichelmann Kaiser's debut feature Red Shoes won three awards at this year's Sofia International Film Festival (March 16-31), taking home the international competition's main prize - the Sofia City of Film Award - as well as the Fipresci prize and young jury award.
Red Shoes premiered in Venice's Horizons Extra section and is being handled internationally by 102 Distribution.
The international jury headed by North Macedonian filmmaker Milcho Manchevski gave its special jury award to Bekir Bülbül's Turkish-Belgian co-production Cloves And Carnations, while Greece's Vasilis Katsoupis was named best director for his claustrophobic drama Inside starring Willem Dafoe, which premiered at last month's Berlinale.
Special mentions went to Mayan Rypp for her debut The Other Widow and to Bulgarian actor Malin Krasteb for his "economical yet powerful performance" in Tonislav Hristov's The Good Driver which was named best Bulgarian feature film by a jury of festival programmers from Antalya, Thessaloniki and Prague.
The Balkan Films competition was won by Turkish director Emin Alper's Un Certain Regard 2022 entry Burning Days, while the documentary jury headed by UK filmmaker Kate Cragg was unanimous in its choice of Danish filmmaker Lea Glob's Apolonia, Apolonia for the best documentary award.
Meanwhile, the audience award for a film screening in the international or Balkan competitions went to local first-time director Orlin Milchev for his coming-of-age drama The Art Of Falling.
Sofia Meetings awards
Projects from Portugal and Lithuania were among the winners at Sofia's parallel co-production market, Sofia Meetings, which celebrated its 20th anniversary edition this year from March 22-26.
An international jury of Eva Pons (Arte), Katharina Stumm (Connecting Cottbus) and Italian producer Flaminio Zadra of Palosanto Films gave Cinelab Romania's award of post-production services worth €25,000 to Portuguese-Brazilian project The Last Summer to be co-directed by João Nuno Pinto and Fernanda Polacow.
Another award of post-production services - by Hungary's FocusFox Studio - was presented to Lithuanian director Laurynas Bareisa and his producer Klementina Remeikaite of Vilnius-based Afterschool for his second feature Drowning Dry, while EastWest Filmdistribution's award of script consultancy worth €5,000 from Irish-American script doctor Steven Goldsmith went to Bulgaria's Elitza Petkova for her third feature Dissonance.
In addition, the UK technology-based media agency Gruvi sponsored two awards worth €5,000 each for marketing AD technology services, to be awarded to feature debuts by the Italian actress Giulia Grandinetti's (Jaune et Bleu) and Bulgaria's Yordan Petkov (Resonance).