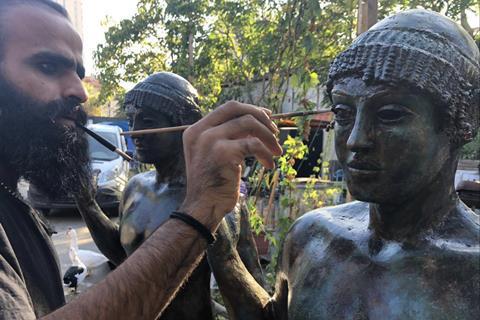 Paris-based sales company Versatile has revealed fresh details for Palestinian directors Arab and Tarzan Nasser's upcoming Gaza-set film Apollo, which is currently in post-production having shot in Jordan and Portugal.
The fraternal directorial duo's debut feature Degradé, about a group of women trapped in their local hair salon by fighting, premiered in Cannes Critics' Week in 2015. Prior to that, their short film Condom Lead played in Cannes Official Selection.
They have returned to the setting of their native Gaza for their second feature. Palestinian actor Salim Daw (Tel Aviv On Fire, The Bureau and Fauda) co-stars as a single, Gazan fisherman who is secretly in love with a local market stallholder, played by award-winning actress Hiam Abbass.
When he discovers an ancient statue of Apollo in his nets, he hides it, not knowing what to do with it, but deep inside the discovery has given him a new sense of purpose and confidence.
Other cast members include Maisa Abdelhadi, Manal Awad and Haitham El Omari.
Versatile co-chief Violaine Pichon, who will launch sales on the film at the EFM, describes it as a "sweet and melancholic love story".
The storyline is inspired by the real-life case of an Ancient Greek statue of Apollo that was fished out of the sea off the Gaza Strip in 2014.
The Hamas government, which has ruled over the Gaza Strip since 2007, seized the artifact and reportedly started looking for a buyer in the hope the proceeds could pay off the Palestinian territory's debts. The statue disappeared shortly afterward and its whereabouts remain a mystery.
The Nasser brothers co-wrote the screenplay. Beyond the love story at the heart of the film, they also want to capture the life of ordinary people living on the Gaza Strip, a 400 square kilometre area that is home to 1.9m people.
The feature is produced by Rani Massalha and Marie Legrand at France-based Les Films du Tambour and Michael Eckelt at German production company Riva Filmproduktion. Coproduces are Pandora de Cunha Telles and Pablo Iraola at Lisbon-based Ukbar Filmes and long-time collaborator Rashid Abdelhamid at Made in Palestine Project.