Smith delivered this year's MacTaggart lecture at the Edinburgh International TV Festival.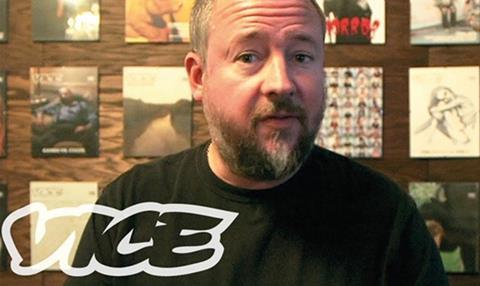 Vice boss Shane Smith has taken aim at traditional media rivals, warning that there will be an acquisition "bloodbath" as firms such as Time Warner, Disney and 21st Century Fox all desperately chase scale.
Chief executive Smith used the MacTaggart lecture at the Edinburgh International TV Festival to predict an "M&A frenzy" next year and an "ugly revolution" across media.
"The big boys will all do big strategy plays. They will buy market share because there's going to be a fucking bloodbath. What will happen after consolidation is a whole load of new media will go away."
Disney is believed to own around a 10% stake in Vice, having invested $400m last year, similar to A+E Networks' stake, while Fox owns a 5% stake in the firm. "Time Warner, Fox and Viacom all tried to buy us at one time," he said.
However, he added that the youth-skewing brand would itself "buy market share" as it moved into its next phase of growth.
Vice is thought to have a "war chest" of around $500m following its last round of investment.
"I want to take that money and put it into content for young people," he said. "Media today is like a private club, so closed that most young people feel disenfranchised. You have to hand it over to the kids."
He said that Vice currently reaches over 200m people per month and wants to reach 1 billion.
"How am I going to do that? By turning on the jets," he said.
Smith highlighted a shift in strategy for Vice's "hockey growth", moving from lifestyle content such as the Dos and Don't strand, along with features including The Vice Guide To Giving Head, into news documentaries and current affairs programming including its HBO series.
"We changed our brand from a hipsters' bible talking about rare denim, cocaine and super models to doing environmental programming, social justice, women's issues, and, of course, music," he said.
"And guess what? Our business grew. Our audience exploded. And we made more money. Which is good because more money means more content."
Smith also highlighted the launch of linear channel Viceland, outlining the reasons behind its strategy to produce almost all of its shows, such as Hate For Beginners, Big Night Out and Needles and Pins (w/t), in-house.
He also predicted the death of the 30-second advertising spot and added that "OTT with innovative monetisation" was the holy grail.
"But are we going towards that? No we're fighting each other, doing the same as the music industry did when it got fucked. We're getting lawyers, trying to hold onto our IP, deriding each other," he said.
This article first appeared on Screen's sister publication Broadcast.