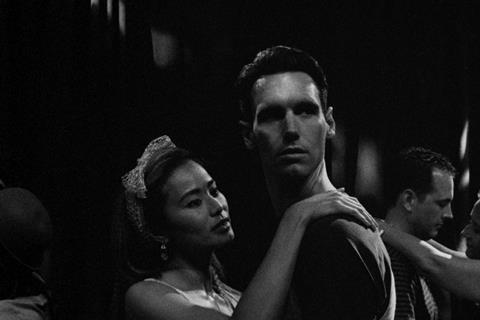 Ryan Kampe's Visit Films heads to the Croisette with a sales slate that encompasses SXSW selection 1985, Tribeca entries Maine and Slut In A Good Way, and documentary City Of Joel, among others.
Kampe and his team will continue talks on Behold My Heart starring Marisa Tomei, and Sundance and Berlinale selection Madeline's Madeline.
1985 (pictured) stars Cory Michael Smith (Gotham, Carol), Virginia Madsen (Sideways), Michael Chiklis (The Shield, Gotham), and Jamie Chung (The Hangover Part II & III, Big Hero 6) and follows a closeted young man returning to his Texas hometown for Christmas during the first wave of the AIDS crisis.
Burdened with unspeakable tragedy in New York, he reconnects with his brother and estranged childhood friend as he struggles to divulge his dire circumstances to his religious parents.
Yen Tan wrote and directed 1985 and Hutch and Ash Christian produced with MuseLessMime Productions and Cranium Entertainment in association with Floren Shieh Productions and Rainmaker Films. The black-and-white premiered at SXSW and is inspired by Tan's short film of the same name, which won a special jury award at SXSW in 2016.
Tribeca selection Maine tells the story of Bluebird, a married woman from Spain (Laia Costa), who seeks to reclaim her identity through hiking the Appalachian Trail. When she meets a lone American hiker (Thomas Mann) on her trip, the two strangers become inexplicably drawn to one another. Matthew Brown wrote and directed, and Summer Shelton, Michael B. Clark, and Alex Turtletaub served as producers.
Slut In A Good Way follows three teenage girls with different views of romance who fall for young men at the local toy store who end up applying for jobs in the store, only to retaliate against their colleagues' chauvinistic game by going on a sex strike.
The Tribeca premiere stars Marguerite Bouchard, Romane Denis, Rose Adam, Alex Godbout, Anthony Therrien, and Vassili Schneider. Sophie Lorain directed from a script by Catherine Leger, and Martin Paul-Hus produced.
City Of Joel is a documentary about the city of Monroe 50 miles north of New York City where a land dispute breaks out between an ultra-orthodox Hasidic sect and their secular neighbours.
Jesse Sweet directed and co-wrote the screenplay with Federico Rosenzvit. Sweet, Federico Rosenzvit, and Hannah Olson produced, while David Gordon Green and Kampe served as executive producers.
Behold My Heart stars Tomei (Spider-Man: Homecoming, The Wrestler), Charlie Plummer (Lean On Pete, All The Money In The World), and Timothy Olyphant (Justified, Santa Clarita Diet) in the story of a mother and son who find their way back to each other after her husband dies.
Joshua Leonard directed from the script he co-wrote with Rebecca Lowman. Mary Pat Bentel, Marcus Cox, and Karrie Cox produced while the executive producer roster comprises Johnny Mac, Dave Hansen, Heywood Wilansky, Hao Pham-Wilansky, and Justin Williams.
Madeline's Madeline premiered in Sundance and went on to screen in Berlin. Newcomer Helena Howard plays a troubled teenage girl who becomes an integral member of a prestigious physical theatre troupe under the leadership of an intense instructor. Miranda July also stars.
Josephine Decker's feature was produced by Krista Parris and Elizabeth Rao. Howard won the special jury award at the Sarasota Film Festival for her breakout performance.