US sales outfit is also representing Maisie Williams drama Departures at this week's EFM.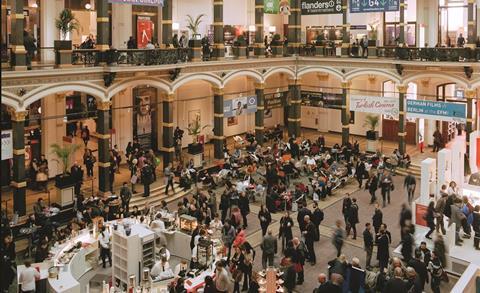 LA-based sales agent Voltage Pictures has acquired international sales on the thriller Escape Room and is introducing to buyers at European Film Market (EFM).
Will Wernick will direct from a screenplay by Noah A.D. about a 30th birthday party in an escape room where participants must solve clues to get out of a locked room. The puzzles get harder and guests start to die.
Kelly Delson and Sonia Lisette are producing and Jeff Delson serves as executive producer.
Evan Williams stars with Annabelle Stephenson, Elisabeth Hower, Dan J Johnson, Billy Flynn, John Lerardi and Kelly Delson.
"Escape Room is a well-crafted thriller that ticks all the boxes and is bound to satisfy genre fans everywhere," said Voltage president of international sales John Fremes. Preferred Content represents US rights.
In other Voltage news, the company will fully finance and co-produce with BCDF Pictures the drama Departures starring Asa Butterfield, Maisie Williams and Tyler Hoechlin.
Talks with international buyers in Berlin have commenced on the story of Skye, a terminally ill yet spirited teenager who befriends timid Calvin.
While the young man helps Skye achieve her 'bucket list' ambitions, she helps Calvin confront his fears and fall for the apple of his eye, Izzy. Peter Hutchings will direct from Fergal Rock's screenplay.
The project is said to be in the vein of The Fault In Our Stars is set to begin production on April 24 in New York.
Claude Dal Farra, Brice Dal Farra, and Brian Keady produce for BCDF with Nicolas Chartier and Alissa Phillips for Voltage. Dal Farra and Chartier brokered the deal.
"Fergal has written a beautiful screenplay and we are excited to work with Peter Hutchings and our friends at BCDF," Chartier said. "This film will certainly resonate with the vast teen audience the world over."
Dal Farra added: "Departures is one of those rare projects that's both commercial and intricate in its handling of many aspects of our humanity. We couldn't be more pleased to be working with Peter and his brilliant cast on this wonderful movie."
CAA and Voltage Pictures jointly represent US rights.