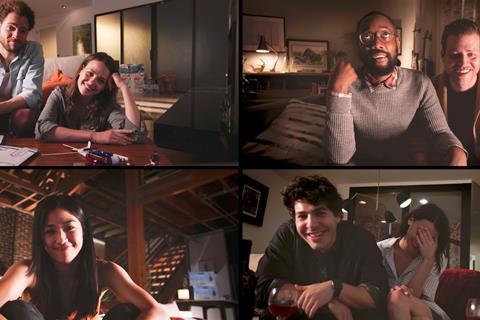 Voltage Pictures has sold US rights to Will Wernick's (Follow Me) upcoming pandemic thriller Safer At Home to Vertical Entertainment.
The distributor has set a February release for the film, which takes place in 2022 as a group of friends under lockdown join an online party and take what turns out to be a dangerous drug.
Safer At Home was one of the first projects to go safely into production last year during the pandemic. Wernick and Lia Bozonelis wrote the screenplay from a story by Wernick, Bozonelis, and John Ierardi.
Bo Youngblood and Ierardi of Showdown Productions produced with Wernick under his 7930 Entertainment.
Executive producers are Voltage CEO Nicolas Chartier, president and COO Jonathan Deckter, and vice-president of acquisitions and development Babacar Diene.
Deckter also announced a raft of international sales after introducing the film to virtual AFM buyers last November.
Falcom has picked up German-speaking Europe, eOne has acquired the film for Canada, and Signature Entertainment has taken UK rights.
In other deals, Safer At Home has gone in Benelux (The Searchers), Spain and Latin America (Sun Distribution), Russia (Central Partnership), Australia (Madman), Portugal (Cinemundo), Middle East (Front Row), and South Africa (Filmfinity).
The cast includes Alisa Allapach, Adwin Brown, Jocelyn Hudon, Dan J. Johnson, Michael Kupisk, Emma Lahana and Daniel Robaire.