VR Cinemas, permanent venues dedicated to exhibiting virtual reality content, face multiple challenges as the emerging medium continues to struggle to carve out its niche in the film industry.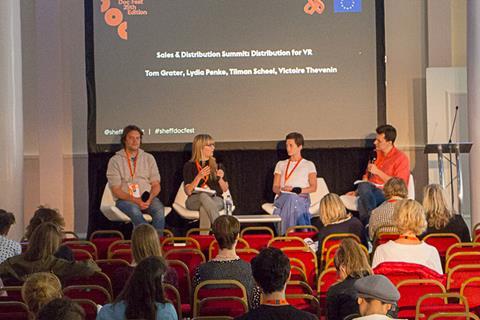 Tilman Scheel (reelport), Lydia Penke (Curzon Cinemas), Victoire Thevenin (mk2), Tom Grater (Screen International)
A panel at Sheffield Doc/Fest on Sunday (June 10) welcomed two film industry professionals working in the VR Cinema space and a technology expert working on VR distribution software to discuss the continued journey towards wider adoption.
Lydia Penke, a programmer at Curzon Cinemas, which opened its first dedicated VR space at its Oxford venue last year, noted that early adopters of the idea were finding it significantly difficult to turn the venues into sustainable businesses.
She pointed to the owners of VR Cinema Amsterdam, purportedly the world's first dedicated VR venue when it opened in early 2016, which shuttered its doors on April 6 this year as it struggled to turn a profit.
Curzon works with the company behind the venture, Samhoud Media, on the distribution of VR content to its Oxford venue and Penke noted that the Dutch outfit would continue to be working in the virtual reality space, though not on its Amsterdam cinema.
Penke also highlighted that Curzon had encountered multiple barriers with its VR Cinema to date. The venue comprises of 20 seats with VR headsets (Samsung Gear) and costs £7 a pop for an hour slot for audiences, with the content on offer being a selection of 360 videos, primarily original content though tie-ins pieces with film releases have occasionally been selected such as the recent Isle Of Dogs (though these experiences are promotional and cannot be charged for).
"We haven't made any money from it, though that's not our objective. It's not just about playing a piece of VR but everything behind it: the system that stores the content, that links to accounting, ticketing, the website… There's a whole back end that needs to be developed, which is one of our challenges."
"For us the quality of the content is currently the biggest barrier. We're looking for VR that can enhance our film programme," she said, noting that many of the highest quality VR experiences currently on the market were closer to resembling video games and didn't fit into the Curzon brand.
With Curzon's modern, state of the art cinema screens, the quality of the VR experiences paled in comparison to the films on offer, she added, suggesting that expectation management was a crucial part of exhibiting VR.
"It's also very labour intensive, you can screen a film in a cinema to 100 people, but with VR you have to give people individual attention to set them up and explain," she added.
Penke added that more a sustainable business model would require significant investment in hardware and software, but noted that the continued rapid advancement in VR tech, particularly headsets, meant that companies were unsure of when to make that leap. Despite the challenges, Penke noted that Curzon remains optimistic about the future of VR and remains "on the lookout for new content".
In contrast, Victoire Thevenin, who works in VR and Digital for French entertainment company mk2, said that her company had found success with its VR Cinema in Paris, which it opened in December 2016.
She highlighted the difference between the two endeavours, with mk2's venue being a more advanced facility consisting of cutting-edge VR experiences and bespoke technology such as the popular Birdly, while Curzon's offering is simpler and offers more basic tech. "Ours is more of a modern-day arcade," Thevenin said.
Tickets costs €24 for 50 minutes access to the space, which boasts around 13 experiences. The company clocked more than 60,000 admissions VR admissions in 2017, which is above a 60% occupancy rate.
Thevenin said she believed that the business model is currently stable for "at least a couple of years" but that it was "very hard to project beyond that". The experience has been positive enough to date to make mk2 begin to roll out a network of VR locations, in the form of its own bespoke VR pods, which the company had now sold into cinemas in counties including in Scandinavia and Latin America. The company was also considering making a push into the distribution of VR content, she said.
Thevenin suggested that the company's biggest challenge now was attracting repeat visitors, which necessitated regularly refreshing its content with the latest experiences.
Tilman Scheel, the CEO of Germany tech company reelport, which is known for being Europe's largest submission platform and provider of digital video libraries for film festivals, completed the panel's line-up of speakers.
Scheel's company has also been working on the European Commission-backed DDD60 initiative with partners including festivals Doc/Fest, Sunny Side of the Docs, and the Cannes Marche. The project is aiming to introduce cutting edge video compression and delivery technology to deliver high-quality VR content to Film and TV professionals and will be completed this summer.
He commented that he believed that the level of investment in VR from industries outside of the entertainment industry meant that the technology would continue to develop and that it would be only a matter of time before the film business figured out how to harness it successfully.
"There's no question that VR, or something similar such as augmented reality or mixed reality, is not going away. The main promoters of VR don't come from the film industry, they come from real estate, the car industry, education, medicine. When you have tools to create, artists will come and create. We don't know what will come out of it yet, but it will happen," Scheel said.