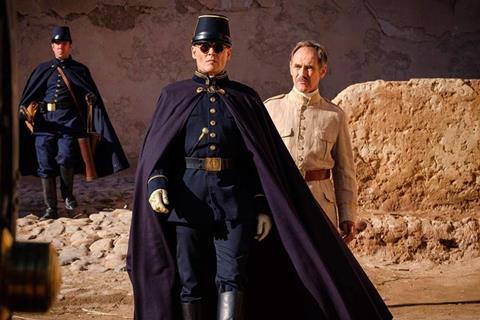 Ciro Guerra's Waiting For The Barbarians starring Mark Rylance, Johnny Depp and Robert Pattinson has secured a raft of key international sales through AMBI Distribution.
Iervolino Entertainment announced the sales as the TIFF virtual market gets underway.
Rights to the drama have gone in Germany (Constantin Film), France (SND), Australia (Defiant), Italy (Iervolino Entertainment S.p.A.), Scandinavia & Iceland (Non Stop), Middle East (Falcon Films), CEE (Vertical), and Taiwan (Cai Chang International).
Deals also closed in Latin America (Dreamgold), CIS (Paradise), Turkey (Filmarti), Mongolia (Black Stallion), Indonesia (Artist View), Benelux (One2See), and Singapore (Shaw Bros).
The drama just debuted in the UK where it was the number one new release on iTunes and the number two overall film this week. The Movie Partnership licensed the film for the UK and closed a pay-TV deal with SKY Cinema there.
Waiting For The Barbarians is based on J.M. Coetzee's novel about an official in an isolated frontier settlement on the border of an unnamed empire whose retirement preparations are ruined by the arrival of a brutal military officer. Gana Bayarsaikhan and Greta Scacchi also star.
Andrea Iervolino of Iervolino Entertainment produced alongside Monika Bacardi, Michael Fitzgerald, and Olga Segura. Executive producers are Martin Franklin, Cristina Gallego, Danielle Maloni, Deborah Dobson Bach, and Penelope Glass.
Samuel Goldwyn Films released the film in the US on VoD and digital platforms after the pandemic forced it to pivot away from a planned theatrical release.