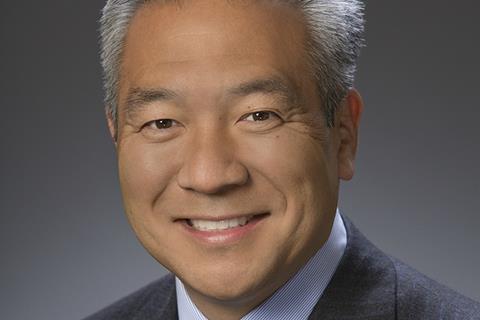 Kevin Tsujihara is stepping down as chairman and CEO of Warner Bros Entertainment in light of a report of an affair that he said "could be a distraction and an obstacle to the company's continued success".
Tsujihara, a widely liked 24-year Warner Bros veteran who became CEO in 2013, sent a note to staff at the studio after WarnerMedia CEO John Stankey said it was in the best interests of the company that the chairman and CEO of Warner Bros Entertainment step down.
Two weeks ago a report ran in the trade press claiming Tsujihara had had an affair with British actress Charlotte Kirk. The actress subsequently appeared in Warner Bros films Ocean's 8 and How To Be Single.
"It is in the best interest of WarnerMedia, Warner Bros., our employees and our partners for Kevin to step down as Chairman and CEO of Warner Bros," said Stankey. "Kevin has contributed greatly to the studio's success over the past 25 years and for that we thank him. Kevin acknowledges that his mistakes are inconsistent with the Company's leadership expectations and could impact the Company's ability to execute going forward."
WarnerMedia did not name a successor on Monday morning (18) and continues to work with a third-party law firm to complete an investigation with Tsujihara's cooperation.
Following AT&T's acquisition of Time Warner, Tsujihara's role within WarnerMedia expanded to encompass a new global children and young adults business.
Tsujihara's note to staff appears below.
Dear Colleagues,
Over the past week and a half, I have been reflecting on how the attention on my past actions might impact the company's future. After lengthy introspection, and discussions with John Stankey over the past week, we have decided that it is in Warner Bros.' best interest that I step down as Chairman and CEO.
I love this company and the people that make it so great. I've been honored to head this organization and work alongside all of its talented employees over the past 25 years. Together we've built this studio into an unequivocal leader in the industry.
However, it has become clear that my continued leadership could be a distraction and an obstacle to the company's continued success. The hard work of everyone within our organization is truly admirable, and I won't let media attention on my past detract from all the great work the team is doing.
I am overwhelmed and grateful for the outpouring of support I have received from colleagues and industry partners during this difficult time.
Again, I am so proud of the great work that you do every day to make Warner Bros. the gold standard in our industry. It has been a pleasure to work alongside each and every one of you, and I wish you all the absolute best.
Sincerely,