COMIC-CON: Warner Bros set the bar high with the first Hall H session of Saturday, unleashing a slick and loud session that suggested it has begun to execute on a long-term strategy to exploit the treasures that lie within the DC Comics vaults.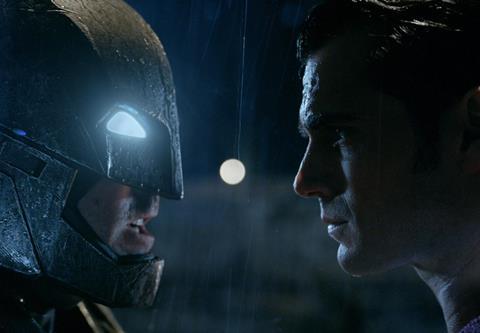 Batman v Superman: Dawn Of Justice was the jewel in the crown, but the wrap-around panels that stretched along the side walls of Hall H pointedly referenced two Justice League films, a Green Lantern project, Wonder Woman, The Flash, Aquaman and Suicide Squad.
Zack Snyder and his key Batman v Superman cast of Ben Affleck, Henry Cavill, Gal Gadot, Jesse Eisenberg, Jeremy Irons, Holly Hunter and Amy Adams took centre stage as the studio did a good job of ratcheting up anticipation levels ahead of the summer 2016 release.
The trailer for Batman v Superman delighted the crowd and profiled a gritty, disturbing world reminiscent of the Gotham created in Christopher Nolan's trilogy.
Footage showed the two eponymous crime fighters locked in combat and there were brief sequences involving Arthur, Wonder Woman, Lex Luthor and Lois Lane.
Snyder spoke of his reverence for Frank Miller and his comic book The Dark Knight and said he pays homage to the source while adhering to an entirely original storyline.
"It will launch you towards what could be bigger conflicts with other superheroes," said Snyder.
The director also confessed to taking a few geographical liberties. "The big rule we broke is we put Gotham and Metropolis next to each other… It made sense for us that they were sister cities across a bay, like Oakland and San Francisco."
Affleck nearly brought the house down when he recalled the time he went shopping with his son for a child's Halloween costume and by chance ran into Christian Bale in the aisle of a largely deserted store.
"He told me, 'Make sure you can piss in that suit,'" Affleck said.
Suicide Squad
The Warner Bros session also touched briefly on Suicide Squad. Director David Ayer flew in from working on the film in Toronto and introduced footage after some choice fighting words.
"All this good versus evil shit is played out right now," said Ayer. "It's time for bad versus evil."
The filmmaker said he was not looking to start an East Coast-West Coast war with Marvel Studios, referencing the notorious rap wars, but his words added weight to the sense that Warner Bros is finally moving ahead aggressively with building its DC Comics superhero universe.
Ayer introduced disturbing and intense footage from Suicide Squad that showed the recruitment of a crack team of criminals and lunatics on a top secret government mission.
Minutes later Ayer was joined on stage by Will Smith, who described him as "the truth". Margot Robbie, Jai Courtney, Joel Kinnaman and Viola Davis also took a day's leave from Toronto to drop into Hall H.
The Man From U.N.C.L.E
The Warner Bros session started with a tongue-in-cheek recorded message by Guy Richie from the set of The Man From U.N.C.L.E.
Cavill made his first appearance of the day on stage with Armie Hammer, Alicia Vikander and Elizabeth Deblicki.
Richie has kept the action rooted in its original Cold War milieu and allowed the crowd to watch footage of a car chase through a cobbled European street and the first encounter between Cavill's CIA operative and Hammer's KGB agent.
Pan
In the second slot, Joe Wright introduced footage from Pan that included a grandstanding scene by Hugh Jackman as Blackbeard. The Australian came on stage to declare, "You've never seen Neveraland like this."