The studio is plotting to release two to four films next year, with Joo-young Lee's A Single Rider set to be the first.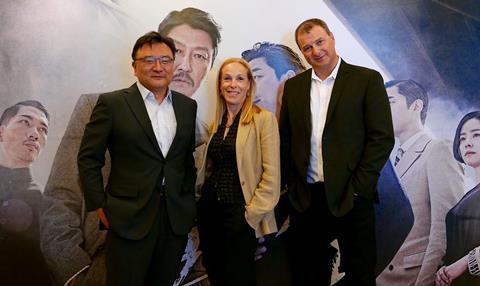 Warner Bros is planning to increase its Korean-language production, producing two films this year and between two and four next year, according to Warner Bros Korea director, local productions, Jay Choi.
In addition to its previously-announced Korean debut, Kim Jee-woon's Age Of Shadows, the studio will also release A Single Rider, starring Lee Byung-hun (RED 2) and Gong Hyo-jin (Crush And Blush), in 2016. The film is the feature debut of Joo-young Lee.
"It's a small-size movie, completely the opposite from Age Of Shadows," said Choi, referring to Kim's period action thriller as being in the $8.8m (KW10bn) budget range.
The company is also investing in The Bad Lieutenant, for which Man From Nowhere director Lee Jeong-beom is writing and directing an original script. The film is currently in casting and expected to go into production next year.
Age Of Shadows has been selected for the Toronto International Film Festival and is scheduled for Korean release on September 7.
Warner Bros execs emphasised they are looking for Korean films targeted at the local market, greenlighting only films that can do well in Korea, coupling their savvy from 27 years of distributing Warner Bros titles in the local market with Choi's veteran experience as a hit producer of films such as The Good, The Bad, The Weird and The Attorney.
"Korea has been a very successful market for Warner Bros titles and has been among the top ten, top five markets for us. But we are very conscious about the fact that local films take around 50% of market share. We are making a long-term commitment to the market and infrastructure and making sure [Choi] has the resources," said Warner Bros executive vice president, International Production, Marc Gareton.
In terms of how Korean filmmakers might have to adjust to working with a Hollywood studio, Choi said: "Aside from needing time to translate the scripts, there isn't much difference between how we work and a Korean studio works. In a way, we have more creative freedom because the head office doesn't have prejudices about how Korean films should be and they will work with a wider range of talent, including rookie directors."
Monique Esclavissat, executive vice president, international production and acquisitions, Warner Bros Pictures International, said: "Warner Bros is quite well-known for establishing long-term relationships with filmmakers on the studio level and we like the idea that we will be a home for filmmakers in the Korean market as well as new talented filmmakers."
Gareton also remarked on the possibility of remaking films from other territories "which happens a lot in Latin America, Spain and Europe" or taking film IPs to the games space since "Korea has a very strong games industry."