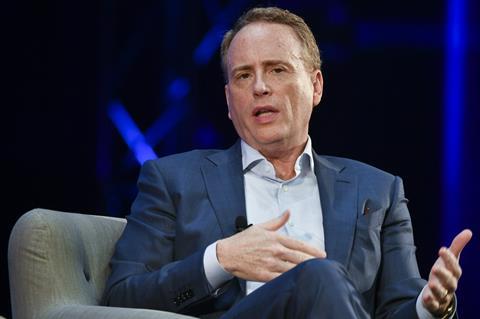 WarnerMedia Entertainment and direct-to-consumer chairman Robert Greenblatt said he was "wide open" to local-language shows on HBO Max, as he used a Mipcom Personality of the Year keynote to outline the strategy for the upcoming platform.
Quizzed on whether there was space for international acquisitions, Greenblatt said on Tuesday (15) he expected shows from across the globe to become part of the offering, citing HBO's recent success with Israeli drama Our Boys.
"We're wide open to bringing more of those sorts of shows onto HBO Max in their original languages," Greenblatt said. "We've seen on Netflix and Amazon some extraordinary shows from different countries and we would love to have some of those as well."
The executive also revealed fresh details about the creation and launch of AT&T WarnerMedia's new streaming enterprise, which he oversees, adding that HBO Max will carry musical series Grease: Rydell High, inspired by the 1978 hit film Grease.
"We're taking Grease the musical and we're going to reinvent it as a musical series, so you're in the world of that show with some of the music, some of the characters even, not all the characters," he said. "We're going to build out the world of this show that everyone loves in that musical style and build a High School Musical kind of experience."
The seasoned TV executive – who revealed that he has personally invested in Broadway musicals including 9 To 5 and Hamilton as "a hobby" – said the new show would catch the wave of the recent renaissance in musicals in the US.
"Musicals are back. Steven Spielberg is making West Side Story, we're making In The Heights, Warner Bros is making The Color Purple, Disney has been making musicals for years. It's a form that goes in and out of favour and I think it is coming back into favour in a big way."
Turning to overall strategy for the platform Greenblatt said, "The assets are undeniable and the buy-in from parent company AT&T is strong and aggressive. We're going to bring this product to market next spring and it's coming together very, very quickly."
HBO Max, he said, would combine content from across the WarnerMedia empire with original content. As chairman of WarnerMedia Entertainment, he is responsible for the overall management of HBO as well as the linear cable networks TNT, TBS, truTV and Otter Media.
Grease: Rydell High joins a growing roster of previously announced original commissions by HBO Max. "We've been buying a lot of new shows from an array of really exciting people – dramas, comedies and reality shows. We're also expanding to younger audiences, kids programming, young adults, Gen Z programming," Greenblatt said, listing previously announced highlights including Love Life starring Anna Kendrick, Japan-set action drama Tokyo Vice starring Ansel Elgort, and Ridley Scott's new sci-fi drama Raised By Wolves.
"He's directing the first couple of episodes," Greenblatt said of the latter. "It's another one of Ridley's great creations. We haven't really seen any footage yet but we're going to in a couple of weeks and will tease the audience."
The executive also revealed the platform was plotting several shows inspired by the universe of Warner Bros-owned DC Entertainment, including productions overseen by prolific producer Greg Berlanti, which are due to be announced "in a couple of weeks".
"People are very excited to come over to our new platform. We'll be laying it all out in October. A lot of it has been announced but there's a big new slate."