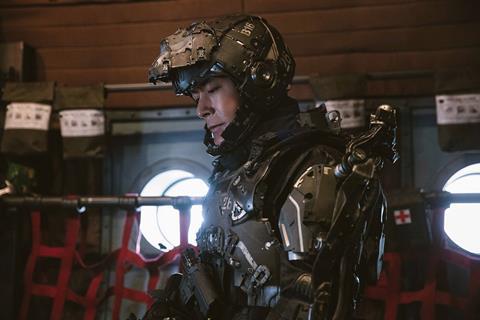 Action sci-fi film Warriors Of Future has recorded Hong Kong's best box office opening weekend for a local feature since the beginning of the Covid-19 pandemic.
Generating $2.5m (HK$19.5m) from its first four days on release (August 25-28), this also made it the first local film to have an opening that reached pre-pandemic levels. This is despite the occupancy rate in Hong Kong cinemas being capped at 85% as caution over Covid remains.
Warriors Of Future opened top, benefiting from a wide release with a daily average of 63 cinemas and 676 screenings, including premium formats such as 4DX, Imax and CGS (China Film Giant Screen). Including preview screenings, the film reported a cumulative total of $2.78m (HK$21.78m).
Billed as the city's first sci-fi blockbuster with a budget of nearly $60m (HK$450m), it is the first film that Hong Kong star Louis Koo has credited himself as the principal producer through his company One Cool Film Production.
The project, which has been several years in the making, is a VFX-laden film set in an apocalyptic near-future where a giant plant has hitched a ride inside an asteroid to Earth, destroying everything in its path. But it also cleans toxins in the air, creating a dilemma for mankind.
Marking the directorial debut of award-winning visual-effects specialist Ng Yuen Fai, the film stars Koo, Lau Ching Wan, Carina Lau and Philip Keung.
Backers include Media Asia Film Production, World Universal Culture, iQiyi Motion Pictures (Beijing), Beijing Unimedia Television Culture, Tianjin Maoyan Weying Media, Shenzhen Film Studio and Shanghai CMC Pictures.
The film ranked seventh at the global box office over the weekend and has taken more than $90m to date, of which $88.5m (RMB600m) has been earned from mainland China following its release there on August 5. Release plans outside Hong Kong and China have yet to be revealed.
Warriors Of Future was one of two local productions to open the 46th Hong Kong International Film Festival on August 15, with Koo, Ng and Keung in attendance. Speaking to the local audience, Koo said: "The production process was arduous and challenging. Yet, I believe someone has to take forward the Chinese-language sci-fi genre. Hopefully, this will open more doors for Hong Kong cinema in the future."