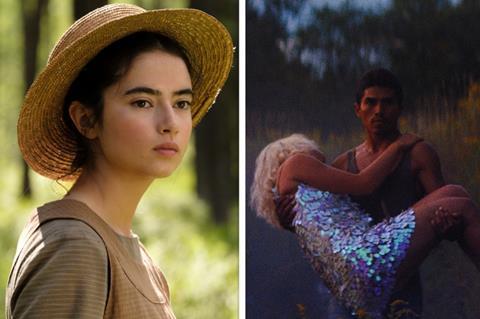 Montreal-based WaZabi Films will launch sales on Toronto International Film Festival (TIFF) world premiere selections Maria Chapdelaine from Sébastien Pilote and Ivan Grbovic's Drunken Birds (Les Oiseaux Ivres).
Maria Chapdelaine will screen in Contemporary World Cinema and takes place in rural Quebec in the early 20th century where a teenage girl must choose one of three suitors. Pilote adapted the screenplay from Louis Hémon's 1913 novel. WaZabi represents worldwide rights excluding Canada, where MK2|Mile End will distribute.
Pierre Even (War Witch) of Item 7 and Sylvain Proulx produced the film, which stars Sara Montpetit and Antoine Olivier Pilon. Pilote's The Fireflies Are Gone premiered at TIFF 218 and won the award for Best Canadian Feature Film. His credits include The Auction, which was selected for TIFF 2013 and won the SACD Award at Critics Week in Cannes, and Sundance 2011 premiere The Salesman.
Grbovic's Drunken Birds will play in Platform and stars Jorge Antonio Guerrero (Roma) in the story of a drug cartel worker who upsets his boss and migrates to Canada. Kim McCraw and Luc Déry (My Salinger Year, Incendies) produced for micro_scope. WaZabi holds worldwide rights except Canada where Les Films Opale will distribute.
Anick Poirier, WaZabi co-president, said, "We are excited to be on board with both Maria Chapdelaine and Drunken Birds as they have their world premieres at TIFF. The opportunity to work with such great films and with top Quebec directors and producers is a very important part of what WaZabi is about".
WaZabi will launch international sales excluding the UK on Justin LaReau's genre film Lantern's Lane about a recent college graduate and her estranged high school friends who return to the location of an evil urban legend. Vertical Entertainment holds North American and UK rights.
The roster includes Flee The Light, written and produced by Jennifer Mancini, about a psychology student who attempts to cure her sister's crippling psychosis only to expose them both to its origin: an ancient creature intent on claiming their souls. Poirier and co-president Lorne Price will commence talks for the world excluding Canada, where Mancini of Mythic Trips holds rights.
WaZabi has also added two catalogue titles to the slate: early work Incendies from Denis Villeneuve, whose latest film Dune screens in TIFF following its Venice world premiere, and Lucy Walker's environmental documentary Waste Land.
"We continue to add world-class films to the WaZabi line-up and we continue to stay very active during these unique times," said Price. "Being present at TIFF with two great films makes us feel like things are finally starting to get back to normal."