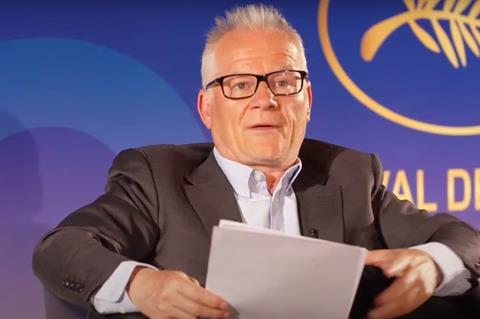 Cannes Film Festival delegate general Thierry Frémaux unveiled his special 2020 Official Selection to an empty cinema theatre on the Champs-Elysées in Paris on Wednesday (June 3), some two weeks after the event's scheduled May 12-23 dates which were cancelled due to the Covid-19 pandemic.
The Normandie cinema, which traditionally hosts the announcement, would usually have been packed with journalists but this was not possible under France's lockdown measures that will only see theatres reopen on June 22 after nearly three months of closure.
Instead, Frémaux sat alone with festival president Pierre Lescure, who had been voted in by the Cannes board for a third-year term earlier in the day, Canal+ presenter Laurent Weil, and a handful of TV crew.
The 56 films in selection were announced as one long list without the usual categories of Competition, Un Certain Regard and Out of Competition, due to the fact that the festival is not taking place physically this year.
Frémaux said it would not have made sense to present the selected films as if it were a normal year.
"We didn't want a devalued Cannes," he explained, ahead of revealing the titles.
He gave the selection some form nonetheless along the lines of The Faithful (directors whose films have screened in Official Selection at least once), The Newcomers (experienced directors in Official Selection for the first time), Sketch Films, First Films, animated films, comedies and documentaries.
As the film industry assesses the list, the big question remains how or whether these titles will make it onto the physical film festival circuit and eventually into cinemas.
Frémaux revealed that François Ozon and his French distributor, Diaphana Distribution had taken the brave decision to launch his selected work Summer Of 85 theatrically in France on July 15. It will be one of the first new French films to go into cinemas as they reopen.
"It's one positive outcome of this announcement. Michel Saint-Jean at Diaphana called me this morning to tell me, 'You know what, you're going to announce the film, we're going to release it,'" he recounted, referring to the company's founding chief.
"So I can announce that it's coming out on Wednesday July 15, just as the cinemas reopen. For them to reopen properly, they need films and there will be this magnificent and very personal work from François Ozon."
Ozon had hinted at the move earlier on in the day with a tweet unveiling the trailer and headlined "Summer of 85 soon in cinemas". The heady coming-of-age tale set on the Normandy coast, revolves around a teenager who becomes infatuated over the summer holidays with a slightly older boy who rescues him from the sea.
Frémaux said the expectation was that Cannes 2020 label films would premiere at festivals that are able to go ahead over the autumn and into the early spring. Crucially, he revealed that Cannes 2020 label films will be accepted into Competition at San Sebastian and Toronto.
"They can go to Toronto, New York, Pusan, Deauville, Angoulême, for the French films. We've agreed with San Sebastian and Toronto that the films can play in their competitions," he said.
Industry professionals tell Screen that Venice, however, is refusing point blank to take films that have accepted the Cannes 2020 label, which has complicated the situation further for filmmakers, producers and sales agents at an already difficult time.
Frémaux brushed over the issue, saying: "I spoke with Lili Hinstin at Locarno. She wanted to welcome Cannes but then she had to cancel too. Theoretically, the autumn festivals are going to lend their support. We talk a lot. You mention Venice, we've evoked doing something with Venice. They're hard at work with their selection at the moment."
He added that the Lumière Festival in Lyon, which he also heads, would also reconfigure its programme "to give many of the films premieres".
Ozon was among the 14 directors badged as "The Faithful" alongside Wes Anderson with The French Dispatch, Thomas Vinterberg with Another Round, and Steve McQueen, who made the cut with two films: Mangrove and Lovers Rock.
Perhaps unintentionally revealing his Lumière designs for The French Dispatch, Frémaux said of the film: "A film shot in Lyon, sorry, I mean Angoulême, with Benicio del Toro, France McDormand and Lea Seydoux. It's an extraordinarily unique film, a cross between a comic strip, an animated film and live action with an extremely visual style. It's also a big homage to journalists."
Commenting on McQueen's virtual double bill, Frémaux recalled the director's Cannes debut in Un Certain Regard in 2008 with Hunger, for which he won the Caméra d'Or.
"He told me, 'Next time in Competition.' There was never a next time. He made 12 Years A Slave and went to the Oscars but he never came back to Cannes. Now, he's returning with two films produced by the BBC, Lovers Rock and Mangrove, two historic films, two films that raise our diversity rate as they're about the black community in London in the 1970s."
Fremaux added that Mangrove, which is inspired by the true story of a real-life trial in 1970 against police racism in Notting Hill, "resonated very dramatically" with the recent cases of George Floyd in the US and Adama Traoré in France, whose deaths in police custody have sparked protests.
Habitués on the list included France's Maiwenn with semi-autobiographical family drama DNA about an Algerian-French family sent into disarray when its elderly patriarch dies. The director and actress previously won the Cannes Jury Prize for Poliss in 2011 and was back in Competition in 2011 with My King in 2015.
"Maiwenn has part Algerian blood. It's a film that returns to her roots and is very touching," he said.
Japan's Naomi Kawase, who has premiered seven films in the festival, was also among The Faithful, with drama True Mothers. "Naomi has been on our jury. We know her very well. It's a very moving film on adoption," commented Frémaux.
Kawase was among four Asian "Faithful" alongside compatriot Kôji Fukada with The Real Thing and Korean directors Im Sang-Soo with Heaven: To The Land Of Happiness, and Yeon Sang-Ho with Peninsula.
The Newcomers
The 15-titles badged as The Newcomers included two UK films: Ben Sharrock's Limbo, about a young Syrian stuck on a remote Scottish island while he waits for his asylum claim to be processed, and Francis Lee's 19th century romantic drama Ammonite, starring Kate Winslet and Saoirse Ronan.
Frémaux compared Sharrock's style as a filmmaker to that of Roy Andersson or Aki Kaurismäki. He suggested that Ammonite was in a similar vein to Celine Sciamma's Portrait Of A Lady On Fire, for the way it explored what it meant to be homosexual in other periods of history, especially for women.
"It's with Kate Winslet, who we've rarely welcomed to Cannes," he added.
There were another 15 first films including actor Viggo Mortensen's directorial debut Falling, Swedish filmmaker Ninja Thyberg's Pleasure (aka Jessica), about a young woman who heads to LA to forge a career in the adult film industry, and French director Charlène Favier's Slalom, about a young skiing champion who is sexually abused by her coach.
Frémaux also emphasised the presence of Brazilian director Joao Paulo Miranda Maria's Memory House at a difficult time for his country's film industry, which faces an uncertain future under the presidency of far-right politician Jair Bolsonaro.
"Walter Salles said to me, "Talk about us. The national cinematheque is in great difficulty," he commented, referring to the Brazilian filmmaker and producer.
Another break with tradition was the inclusion of five French comedies with strong audience potential: Caroline Vignal's My Donkey, My Lover & I, Bruno Podalydès's French Tech, Emmanuel Courcol's The Big Hit, Laurent Lafitte's L'Origine Du Monde, and Laurent Tirard's The Speech.
Frémaux said this was in keeping with the festival's desire this year to help films reconnect with audiences after the three-month cinema closure.
Acknowledging the strong French presence with 21 titles accounting for 37.5% of the Selection, Frémaux said this had not been a deliberate move but added: "We're not sure if the Oscars will take place, or perhaps they will be delayed, but here, there is a good programme for the French Césars."