Alexis Alexiou's neo-noir drama triumphed at an event dominated by the refugee crisis, with honorary award recipient Vanesa Redgrave speaking out against border policies.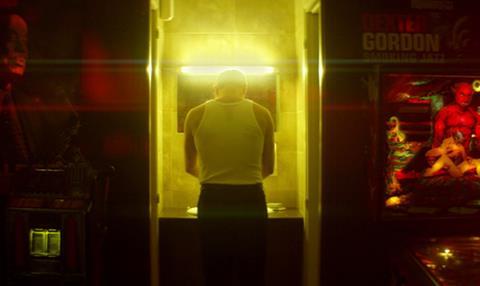 Scroll down for full list of winners
Alexis Alexiou's sophomore directorial outing Wednesday 04.45 [pictured] swept the Hellenic Film Academy (Helfiac) Awards (aka the 'Iris Awards') on Monday evening (March 28) winning nine awards out of the 13 categories in which it was nominated, including best film and director.
The film, which played in the Tribeca, Karlovy Vary and Jeonju festivals, was also awarded best editing, music, cinematography, production design, sound, special effects and actor for Stelios Mainas.
The Greek, German, Israeli co-production backed by Eurimages, is a neo-noir style drama where a club owner, faced with the 2010 recession and unable to repay a loan secured from a thug, tries to avoid bankruptcy.
Handled locally by distribution powerhouse Feelgood Entertainment and in Germany by the Neue Visionen Filmverleih, and sold internationally by Paris-based Loco Films, the film is expected to be Greece's submission in the best foreign language category for next year's Academy Awards.
At this year's ceremony Manousos Manousakis' historical drama Cloudy Sunday (Ouzeri Tsitsanis) picked up three awards including best supporting actress for Vasiliki Troufakou.
Yorgos Zois' Interruption, a postmodern theatre adaptation of the ancient Greek myth of Atrides, which bowed at last year's Venice film festival, was named best first film ex-aequo with Evangelia Kraniotis' feature documentary Erotica Exotica Etc. awarded at the Hot Docs Canadian International Documentary Festival.
Yorgos Lanthimos' Cannes Jury Prize-winner The Lobster was named best foreign film.
UK acting icon Vanessa Redgrave received a standing ovation and the Iris honorary award for her contribution to film and her political commitment.
Her presence fit perfectly with the event's highly topical context: hardly a week after the wrap of the Thessaloniki Documentary film festival, which centered on the refugee crisis abating on Greece, the Helfiac Iris Awards ceremony was dedicated to the same issue.
Redgrave delivered an impassioned speech, praising Greece's population for its response to the more than 50,000 refugees trapped in the country. She spoke out against European governments that have closed their borders to the refugees, comparing it to the British government's similar attitude towards Jewish refugees during the thirties.
Earlier in the evening, the opening ceremony set the tone, featuring a video performance about the refugee crisis with the participation of real life immigrant and refugees living in Greece displaying placards reading "open borders" and "not war".
Full list of winners
Best feature film, fiction
Wednesday 04:45 by Alexis Alexiou.
Produced by LC Productions, Faliro House, Marni Films(Greece), Twenty-Twenty Vision, ZDF/Arte (Germany) and Pie Films (Israel) with the backing of Eurimages, the Filmforderungsanstalt, the Greek Film Centre and NERIT TV and the Israel Film Fund. Producers Costas Lambropoulos, Thanos Karathanos,
Best feature film, documentary
Erotica, Exotica etc by Evangelia Kranioti.
Produced by Aurora Films, I.F. Kostopoulos Foundation with the backing of Region Ilse de Farnce, producers Charlote Vincent, Kranioti,
Director
Alexis Alexiou for Wednesday 04:4,
Screenplay
Efthimis Filippou and Athina Tsangari for Chevalier by Tsangari,
First time director
Yorgos Zois for Interruption ex-aequo with Evangelia Kranioti for Erotica, Exotica etc.,
Actress
Vangelio Andeadaki in Smac by Elias Demetriou,
Actor
Stelios Mainas in Wednesday 04:45,
Supporting actress
Vassiliki Troufakou in Cloudy Sunday (Ouzeri Tsitsanis) by Manousos Manousakis,
Supporting actor
Minas Hadzisavas in Worlds Apart (Enas allos kosmos) by Christopher Papakaliatis,
Cinematography
Christos Karamanis for Wednesday 04:45,
Editing
Lambis Charalambidis for Wednesday 04:45,
Production design
Spiros Laskaris for Wednesday 04:45,
Costumes
Anna Mahairianaki for Cloudy Sunday (Ouzeri Tsitsanis),
Music score
Yiannis Veslemes (Felizol) for Wednesday 04:45,
Sound
Aris Athanasopoulos, Avi Mizrahi, Gil Toren for Wednesday 04:45,
Make up
Nabil Salam for Cloudy Sunday (Ouzeri Tsitsanis),
Special effects
Hipocrates Halas, Mihalis Samiotis, Alahouzos bros Dano Cohen for Wednesday 04:45,
Short film-
The Fig (To syko) by Nicolas Kolovos,
Film Factory Short Film Fund (30,000 Euros)
Vorvourou by Karina Logotheti and Elina Fessa for Tracks (Rages),
Best foreign Film
The Lobster by Yorgos Lanthimos
HFA Honorary award
Vanessa Redgrave.