Documentarian takes aim at Donald Trump veneer of invincibility: 'That all ends with this movie.'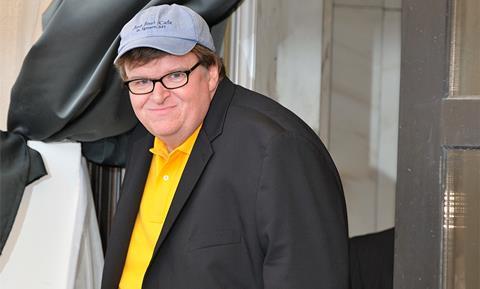 Bob and Harvey Weinstein through their Fellowship Adventure Group anounced in Cannes they have reunited with Michael Moore on the surprise Donald Trump exposé documentary Fahrenheit 11/9.
The Weinsteins have personally secured worldwide rights to the film – named after the day Trump was elected US president on November 9, 2016, which Moore has planned for months and is currently directing.
Moore has teamed up with the Oscar-nominated documentary director-producers Meghan O'Hara, Tia Lessin and Carl Deal with whom he collaborated on Fahrenheit 9/11 – the highest grossing documentary in history on $222m worldwide.
It remains the highest grossing winner of the Palme d'Or in the history of Cannes.
"No matter what you throw at him, it hasn't worked, Moore said of the White House incumbent. "No matter what is revealed, he remains standing. Facts, reality, brains cannot defeat him. Even when he commits a self-inflicted wound, he gets up the next morning and keeps going and tweeting.
"That all ends with this movie."
The Weinsteins released Fahrenheit ‪9/11 in 2004 through the Fellowship Adventure, which they set up to distribute with Lionsgate after they were unable to release the film through Miramax's parent label at the time, Disney.
That film exposed the motivations behind the Iraq invasion sanctioned by then president George W. Bush and vice-president Dick Cheney and the connections between the Bush family, the Saudis and the Bin Ladens, as well as the mishandling of the ‪9/11 attacks and the way that tragedy was used for political gain.
It is understood Fahrenheit 11/9 promises to be just as incendiary as it shows the country again in crisis after a sitting president lost the popular vote.
The Weinstein Company COO David Glasser will meet with worldwide buyers in Cannes to explore "innovative" distribution opportunities.
The Weinsteins said: "There is no greater part of what we can do right now than to have the power to bring Michael Moore to a mass audience. When we had the opportunity to work with him on Fahrenheit 9/11, we were so persistent that we ultimately had to part ways from Disney and we lost our beloved Miramax, named after our parents, because we believed so strongly in the message.

"The movie broke all records then, and we plan to do so again. This movie will have one of the most innovative distribution plans ever. Now more than ever, Michael's appetite for the truth is crucial. We are ecstatic to be a part of this revolution."