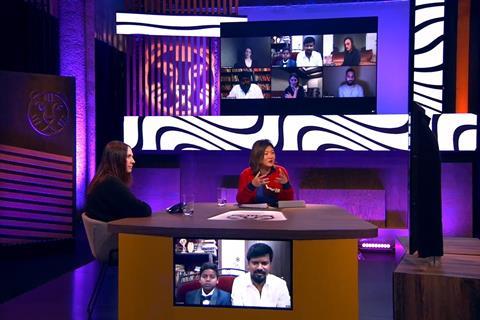 Four Tiger competition directors shared their hopes that the platform provided by the International Film Festival Rotterdam (IFFR) will be a springboard to further international exposure.
Speaking at the festival's virtual daily press conference on January 3, the filmmakers with features in the main competition said they were missing sharing their stories with an audience in-person but remained hopeful the titles would be seen worldwide.
"One major reason we wanted to tell our story to the world is that, when Indian films are mentioned, it is always related to Bollywood," said India's Vinothraj P.S, in competition with rural drama Pebbles.
"However, in India, there are several industries that produce top quality films but don't have more exposure internationally… We look forward to many more festivals and want our film to reach a much wider audience. Unfortunately, during this pandemic, nothing is happening right now but we're glad that at least online screenings are taking place, rather than nothing at all."
Kosovo's Norika Sefa, who makes her directorial debut with Looking For Venera, said that taking her film international would answer questions she had about her own story.
"I really hope this film will travel because I would get to better know the answer of how universal is this story," she said. Looking For Venera is about a teenager growing up in traditional, strictly hierarchical surroundings "I've tried to tell a story that sheds light in some way on how we live [in Kosovo]… so I'd love to get in touch with the audience and discover how much this is traditional to us or universal."
Lebanese filmmaker Selim Mourad, who also stars in his feature Agate Mousse, said the virtual format of this year's IFFR had "allowed new ways of interaction and new ways of meeting the audience".
"I definitely wish, in a time post-Covid if we can dream of that, to have the film screened in a movie theatre because it's beautiful, the sound and the image," he added. "It's been made to be screened in a big format. But anytime the film touches a spectator, that's what matters, at the end of the day."
Pascal Tagnati, the Corsican actor and musician who makes his feature directorial debut with I Comete − A Corsican Summer, echoed the ambition for further international exposure.
"I really hope this film will travel a lot because where it travels it will find its public, and where's there's public, there's intelligence," said Tagnati.
The press conference was hosted by producer Lorna Tee and IFFR festival director Vanja Kaludjercic.
The 50th IFFR is running entirely online from February 1-7.