EXCLUSIVE: Comedy co-stars Miou-Miou and Camille Chamoux; first look revealed.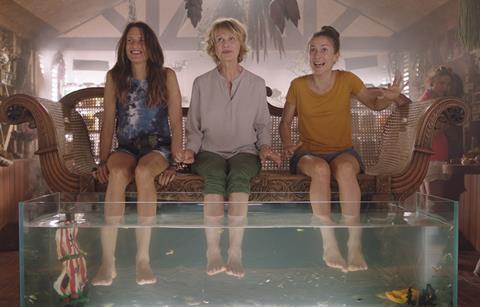 WestEnd Films is launching world sales on Saving Mum (working title), a heartwarming comedy which reunites the team behind French comedy Connasse: writer-director Eloïse Lang and French actress Camille Cottin (Allied).
Rounding out the cast are ten-time César Award nominee Miou-Miou (Populaire), Camille Chamoux (Supercondriaque) and Johan Heldenbergh (The Broken Circle Breakdown).
The exclusive first picture released features Camille Cottin, Miou-Miou and Camille Chamoux (from left to right). The film is currently shooting on Reunion Island.
Saving Mum is the French-language remake of Danish comedy All Inclusive. WestEnd Films acquired the remake rights for that film from Happy Ending Film.
The film tells the story of free-spirited Rose (Cottin) and her uptight sister Alice (Chamoux) who take their mother Francoise (Miou-Miou) out of Paris to the tropical island of Reunion for her birthday. But when a sexy bartender, an attractive widow, and cheap margaritas get into the mix, their fun in the sun starts to get out of hand.
It is developed and produced by Stephanie Carreras and Phillipe Pujo of Estrella Productions (Rock The Casbah), alongside Pathé. Eve Schoukroun from WestEnd is also a producer on the film.
Crew members include DoP Antoine Monod (The First Day Of The Rest Of Your Life), music supervisor Pascal Mayer (Incendies), editor Valérie Deseine (Me Myself & Mum) and sound designer Stéphane Bucher (Valerian).
WestEnd is introducing the film to buyers at the market in Cannes, where it will begin world sales (excluding French-speaking territories). Pathé will be releasing the film in France.
The acquisition and development of Saving Mum comes under the banner of WestEnd Films' recently launched female audience brand, WeLove.