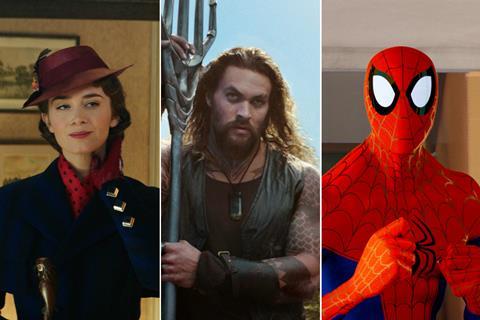 There's a disturbance in the force. For the first time in four years, Christmas 2018 will not see the release of a blockbuster Star Wars title.
For the last three holiday periods, the UK box office has been boosted by Disney's mega-grossing sequels: Star Wars: The Force Awakens was released on Dec 17, 2015, going on to gross an all-time record £123.2m; spin-off prequel Rogue One: A Star Wars Story was out on Dec 15, 2016, taking £66m (13th on the all-time list); and Star Wars: The Last Jedi was released on Dec 14, 2017, taking £82.7m (fifth on the all-time list).
Glossing over the disappointing Solo: A Star Wars Story, which was out in May this year (taking a disappointing £20m), the next instalment in the franchise will be Star Wars: Episode IX when it arrives in time for Christmas 2019.
The question is, will UK exhibitors be bemoaning the lack of a Star Wars adventure this year, or will other titles step up to the plate?
The obvious replacement to fill the void looks to be fellow Disney release Mary Poppins Returns, the sequel to the beloved family feature starring Emily Blunt and Lin-Manuel Miranda. The film arrives on December 21, a week later than the typical Star Wars slot.
Experts are predicting that Marry Poppins Returns could push into the upper echelons of all-time UK box office hits.
The weeks prior to Poppins, however, represent an opportunity for other titles to make more of a mark.
In the last three years, distributors have avoided releasing films close to Star Wars to such a degree that the weeks in the run up have also been notably quiet. 2015 saw almost no high-profile titles released in December prior to The Force Awakens, and December 2016 was similar, with Disney's underperforming Moana the only other significant big release. 2017 again saw few new-openers competing with Star Wars, though Sony did heavily preview Jumanji: Welcome To The Jungle before removing it from cinemas again (then officially releasing it on Dec 20) to give the Disney release a wide berth.
With no Star Wars this year, there appears to be more room for distributors to manoeuvre in December.
This weekend (Dec 7-9) looks fairly light in terms of new releases. Universal's Sorry To Bother You will be looking to make a mark, but the film's talent is more known in the US and only took $17.5m there. 20th Century Fox is plotting a wide release for the Robert Redford-starring The Old Man & The Gun, but the audience again looks limited. Holdovers, such as Ralph Breaks The Internet and Creed II, are likely to remain top of the chart.
However, the trend of scarce December releases looks set to be bucked from next Wednesday (Dec 12), when two-high profile films go up against each other. Warner Bros' superhero picture Aquaman and Sony Pictures' animated superhero film Spider-Man: Into The Spider-Verse will both be looking to post big numbers. Aquaman is reported to be tracking towards a huge US opening, while Spider-Verse is earning strong reviews ahead of its launch.
Following that pair on Friday (Dec 14) is Universal's big-budget Mortal Engines, based on Philip Reeve's novel of the same name. The film has Peter Jackson credited as a writer and producer, but is unlikely to be posting Lord Of The Rings numbers, with middling reviews potentially proving a snag.
Hot on the coat tails of Mary Poppins Return will be Paramount's Bumblebee, the spin-off of the Transformers franchise, and Sony Pictures' Holmes And Watson, with Will Ferrell John C. Reilly, both on Dec 26.
It looks set to be a competitive situation, with at least a couple of these titles likely to do well. While Poppins looks set to be the festival season's top-grosser, distributors do not appear to be looking at it as the same, dominating proposition as a Star Wars release.
Similar to Sony's Jumanji: Welcome To The Jungle strategy last year, several of those releases are also employing a heavy previews strategy. Spider-Verse is previewing in UK sites already and continues over the weekend, while Mortal Engines is also previewing this Saturday and Sunday. Bumblebee will also be seen in cinemas on December 15, 16, 20, and 24 before its official opening on Dec 26.
This strategy should allow those films to secure some early grosses while the market remains quiet, which will be rolled into their "official" opening figures after their opening weekends.
Looking back at 2019
Despite the lack of a top-grossing Star Wars release this year (or a James Bond), by most metrics it has been a positive 2018 for the UK box office, and the remaining releases should propel it to some impressive statistics.
As Screen reported in October, UK cinema admissions are clocking banner numbers this year, and are still on track to reach levels not seen since 1971, when they hit 176 million.
Intriguingly, despite recent reports about high prices at a new Odeon cinema in London, the average ticket price is actually going down. Cinema tickets for 2018 are averaging £7.25 each – last year that number was £7.49.
All in all, it seems the force remains strong with the UK box office.