Noaz Deshe's feature debut White Shadow was the big winner at this year's T-Mobile New Horizons in Poland's Wroclaw.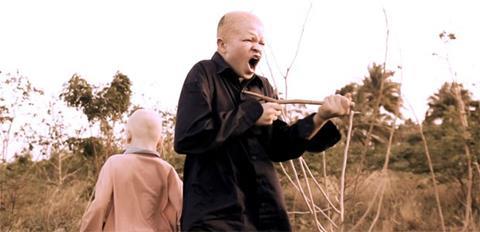 The International Jury - including Polish director Tomasz Wasilewski, the Austrian Film Commission's managing director Martin Schweighofer and Cannes Film Festival's Christian Jeune - presented the €20,000 ($27,000) Grand Prix to the Tanzanian-German-Italian co-production, which was also voted by New Horizons' festival-goers as the recipient of the Audience Award.
Berlin-based Deshe's tale of albinos in Tanzania was premiered at last year's Venice Film Festival, where it received the Luigi de Laurentis Award for the best debut.
It has since won the best director award at the Tarkovsky ¨Zerkalo¨ festival and the best feature film at London's East End Film Festival as well as a special mention at the Transilvania International Film Festival.
White Shadow is handled internationally by Premium Films.
The FIPRESCI International Critics Prize went to another feature debut by Argentinian director Benjamin Naihstat's History Of Fear which premiered in the Berlinale's Competition last February and is handled by Visit Films.
Films on Art
Meanwhile, the €10,000 ($13,000) prize in the Films on Art Competition went to Swedish artist Anna Odell's film debut The Reunion, which is a controversial mix of feature film, documentary and performance art.
A special mention was awarded to Zuzanna Solakiewicz's documentary 15 Corners Of The World, which had its world premiere in Wroclaw and will then be shown in Locarno's Semaine de la Critique next week.
Solakiewicz's portrait of Eugeniusz Rudnik, one of the pioneers of experimental music from the 1960s onwards, was produced as a Polish-German co-production with backing from such institutions as the Polish Film Institute, Poland's National Audiovisual Institute (NInA), and Film- und Medienstiftung NRW.
The 14th edition officially closed on Sunday evening with a screening of Alice Rohrwacher's The Wonders (Le Meraviglie).
There were raised eyebrows among some festival guests at New Horizons dispensing with a printed catalogue this year in favour of an online version. In fact, the content did not differ in volume from the previous years, although the contact details for the films' rights holders - crucial for festival programmers and film buyers - were not listed.
Polish Days
At the third edition of the parallel Polish Days (July 30-August 1), which had some organisational glitches with last-minute switching of guests' hotels, projects such as Anna Jadowska's Wild Roses, Julia Kolberger's Toxaemia, Jacek Lusinski's Carte Blanche and Marcin Krzysztalowicz's All About My Parents attracted particular interest from the participants.
Some suggested that an industry guide with a photograph, company profile and contact details should be considered as a print (or online) publication for future editions of Polish Days. This would be a useful tool for Polish producers seeking to identify potential partners for their projects during New Horizons in Wroclaw and could also prove to be an indispensable reference work after the event
Those attending this year's Polish Days included sales agents Xavier Henry-Rashid (Film Republic), Keiko Funato (Alpha Violet), and Kasia Karwan (Premium Films), distributors Jean Heijl (Just Film Distribution), René Wolf (Eye Film Institute), Daniel Chabanne (Epicentre Films), producers Karsten Stöter (Rohfilm), Steffen Reuter (SCHMIDTz Katze), Guillaume de Seille (Arizona Films), and Pierre Menahem (MPM Films), and festival programmers from Cannes, Berlin, Rotterdam, Thessaloniki, Cottbus, Wiesbaden, Krakow, Istanbul and Vilnius.