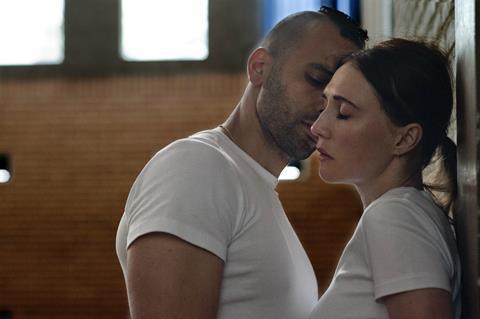 In the wake of the #MeToo movement, the safety and well-being of actors on set is being prioritised through growing demand for intimacy coordinators, according to a panel discussion called 'Sex, Nudity and Intimacy On Screen' at the BFI London Film Festival last week (October 9).
"The ideal would be for the producer and the director to start talking to me well in advance. Does that happen? Not really, if I'm honest," said intimacy coordinator Yarit Dor.
The role itself "is a new thing, and it takes time for the production to decide, 'How do we want the intimacy director to be part of this?'" she continued.
Dor underlined the need to include every production department in the conversation, particularly the costume department, where "fittings for modesty garments are often forgotten".
She was joined on the panel by Ita O'Brien, who has worked as an intimacy coordinator on prominent UK TV series such as Sex Education and Gentleman Jack and is the author of the Intimacy on Set Guidelines. It aims to be established as the industry standard in this area.
On directing intimate scenes in his feature directing debut Pink Wall, actor Tom Cullen said, "I'd strip back that space so it was only the minimum amount of people, so most of the time it was just me, the actors, the DP and the boom operator.
"I also made sure that my cast and crew were 50/50 male and female because it's an intimate story about a relationship, and in no way did I want Tatiana [Maslany, the lead actress] to feel like the film was through the male gaze. So the eyes through the camera were also female. It seems tiny but it made a huge difference."
Another actor-turned-director, Halina Reijn's debut Instinct (which is Netherlands' submission to this year's International Film Oscar) tells the true story of an affair between a serial rapist played by Marwan Kenzari and his prison therapist, played by Game Of Thrones' Carice van Houten.
Containing many, and often violent, intimate scenes, Reijn said it was important "Carice was also a producer on the film, so she was totally in charge of everything with me."
On filming an intensely abusive scene, Reijn said, "That was a very heavy day…especially for [Kenzari]. Of course you have to channel that kind of energy where you would actually do something like that, and he really needed to talk after. It would have been good to have [an intimacy coordinator] on set."
Cullen spoke about his own experience as an actor on a TV series, saying, "We were shooting for six months and the first scene I had was a sex scene with the actor playing my wife, and the first time I met her was when I arrived to set on that first day. It was awful – incredibly careless, and made us feel both very unsafe. We couldn't trust the first AD or the director, which was not very good for our performances. You have to feel very safe all the time."
On her own prolific career on stage and screen, Reijn added, "I would have loved to have somebody who can be there with you on set to guide us through that process so the responsibility is not with me to not turn [my co-star] on – because it's so confusing and so vulnerable."
"If we are there, we can take [actors] through that process," said Dor. "If we are not there then everything is simply done on the day, and that creates more pressure, more triggering, and more uncertainty to an extent that the scheduling goes back."
Speaking to concerns surrounding whether intimacy coordinators might make sex scenes more "prudish", Reijn said, "Actually I think it's much freer, because everybody knows what to do, then the actors will totally relax. And if all the crew is involved and everybody is involved, then you can be free and let go, and then you're not afraid."
"By the time a woman gets to 18, 60% will have been harassed or abused in some way," pointed out O'Brien. Those who have suffered in this way "will have some areas that are off bounds or might be triggering. We don't need to know what that is or their stories, but we do need to allow for agreement and consent."