EXCLUSIVE: French sales company also set to launch new films by Leconte and Delpy at AFM.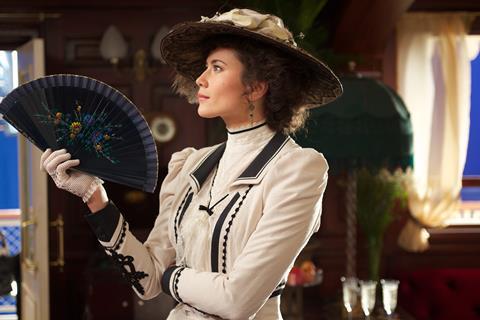 Wild Bunch has picked up sales on controversial Russia director Nikita Mikhalkov's ambitious period drama Sunstroke,which it will launch internationally at the AFM.
"It's a big budget, epic love story as only Mikhalkov knows how to deliver set just as the Russian revolution gains pace and the old Imperial era is destroyed forever," said Wild Bunch sales chief Vincent Maraval.
The film revolves around a Tsarist soldier, awaiting his fate in a Bolsheviks-run prison camp, who recalls a short, passionate affair he once had with a beautiful and enigmatic married woman.
It is an adaptation of a 1927 novel by celebrated Nobel Prize-winning Russian novelist Ivan Bunin, written while he was living in exile in Paris.
Sunstroke was released in Russia at the beginning of October, after controversial premieres in the contested Crimean cities of Sevastopol and Simferopol in September.
The outspoken director told the Russian press earlier this month that he had submitted Sunstroke to Venice this year, where he previously won two Silver Lions, but never received a reply. He complained the selection committee had mixed culture with politics.
French titles
New French titles on Wild Bunch's AFM slate include Patrice Leconte's farcical Do Not Disturb, which marks a return to comedy for the filmmaker after feature-length animation The Suicide Shop and period drama A Promise.
"It's based on the play Une heure de tranquillité by Florian Zeller which was a huge success in France," said Maraval.
Christian Clavier, recently seen in the international hit Serial (Bad) Weddings, stars as a jazz enthusiast who discovers a rare record at a flea market.
He is itching to listen to the track in peace but a series of unwelcome distractions – from his wife announcing she is having an affair, to old friends dropping by unannounced, an intrusive cleaning lady and repeated calls from his mother — prevent him from doing so.
The ensemble cast also features Carole Bouquet and Rossy de Palma.
Olivier Delbosc and Marc Missonnier of Paris-based Fidélité Films are producing the picture currently in post-production. Wild Bunch Distribution will release the film on Dec 31.
New Hannezo, Delpy titles
Wild Bunch will also commence sales on Eric Hannezo's remake of Italian director Mario Bava's 1974 Rabid Dogs about a group of ruthless thieves who take a young woman as well as a father and child hostage after a bank robbery goes wrong.
Virginie Ledoyen stars as the young woman in the production that has just finished shooting in Canada. Wild Bunch will screen the completed picture in Toronto.
"It's a cross between an action and road movie in which the bad person out of the five people in car isn't necessarily the one you think. It's very intelligent," said Maraval.
It is the first feature-length fiction film for Hannezo, who was previously director of sport and documentaries at the French channel TF1.
The company will also launch Julie Delpy's Lolo, which brings the director-actress back to France after her international art-house hit 2 Days In New York.
As well as directing, Delpy stars as Paris sophisticate Violette who falls for a provincial IT geek much to the horror of her ultra-possessive son Lolo who will do whatever it takes to split them up. Dany Boon co-stars as the geeky lover Jean-René.
A script will be available for the film at the AFM. Mars Distribution is due to release the film in France in 2015.
New Studio Ghibli title
The company will also launch international sales on Hiromasa Yonebayashi's When Marnie Was There, about a lonely young girl who is sent to foster parents in a sleepy town by the sea where she makes a mysterious new friend.
The animation, Yonebayashi's first film since The Secret World of Arrietty, was released in Japan over the summer.