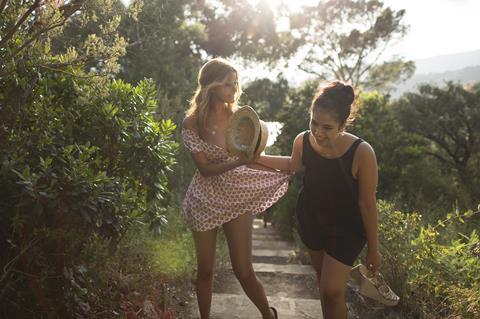 Wild Bunch will kick-off sales on a quartet of new French films during the Rendez-vous with French Cinema in Paris in January including a coming-of-age tale by Rebecca Zlotowski, starring glamour girl and lingerie designer Zahia Dehar, and Guillaume Nicloux's new collaboration with cult writer Michel Houellebecq and Gérard Depardieu.
Zlotowski's An Easy Girl co-stars debutant actress Mina Farid as the naïve 16-year-old Naïma, whose eyes are opened to the world of love, sex and human relationships over a summer spent on the Mediterranean with her older cousin Sofia, a beautiful woman with a stunning, gaze-averting body at one with her sexuality and allure, played by Dehar.
It also marks Dehar's big-screen debut. Little known outside of France, Dehar is infamous at home, having been embroiled in an underage prostitution scandal involving top French soccer players as a teenager before reinventing herself as a lingerie designer and animal rights campaigner. Zlotowski co-wrote the screenplay with Dehar as well as her long-time writing partner Teddy Lussi-Modeste.
"Zahia plays a woman who is proud of and in control of her body and sexuality. It's about a liberated woman in charge of her sexuality. That's the overarching message of the film," says Wild Bunch sales chief Eva Diederix. "Over the course of the film, you see Mina Farid's character blossom and mature from a sort of ugly duckling adolescent into a young woman who illuminates the screen."
An Easy Girl is Zlotowski's fourth feature after Planetarium, Grand Central and Dear Prudence. Aside from her directing and screenwriting activities, Zlotowski is also a leading gender equality activist and member of France's Le Collectif 5050 pressure group. The film is produced by Paris-based Les Films Velvet and has already been acquired for France by Ad Vitam.
Nicloux's comedy Just Great co-stars Houellebecq and Depardieu as two men with dissolute lifestyles who connect at a seawater therapy spa in the Normandy resort of Cabourg as they try to survive the establishment's gruelling health regime, in roles mixing fact and fiction.
"Depardieu's character turns up at the spa with 20 suitcases full of saucisson, foie gras and good wine where he meets Houellebecq's character. They get up to all sorts of nonsense as they take part in aqua-gym sessions and mud-wraps… it promises to be very funny," says Diederix.
The director has previously worked with Houellebecq on The Kidnapping of Michel Houellebecq and Depardieu on Valley Of Love.
Currently shooting in Normandy, the feature is produced by Nicloux's long-time producer Sylvie Pialat at Les Films Worso. Wild Bunch Distribution has acquired French rights.
The shoot coincides with the publication on Jan 4 of Houellebecq's new novel Serotonin, which the French press are suggesting will be as controversial as his last work Submission, set against the backdrop of a future France ruled by Sharia law.
Other new additions to the Wild Bunch slate include Edouard Bergeon's rural France-set drama In The Name Of The Land. It stars Anthony Bajon, who won Berlin's Silver Bear for best actor for his performance in The Prayer earlier this year, as a struggling farmer coming to terms with the suicide of his father, played by Guillaume Canet, and reappraising his relationship with his family's land. The cast also features Belgian actress Veerle Baeten. It is produced by long-time Wild Bunch partners Nord-Ouest Films and Diaphana has acquired French rights.
"It's set against a French rural backdrop and is in the same vein as Bitter Milk (Petit Paysan)," says Diederix, referring to Hubert Charuel's award-winning 2017 indie hit. "It has a fantastic script and strong cast, and while the subject is very French we think it also has strong break-out potential."
The company is also launching sales on actor and director Roschdy Zem's fifth feature, the thriller Persona Non Grata. Nicolas Duvauchelle and Raphaël Personnaz co-star as two disgruntled employees who hire a professional killer, played by Zem, to bump off their bullying boss so they can gain control of the company they helped build.
The plan takes an unexpected turn when the assassin re-surfaces demanding a greater share of the human and economic spoils. The feature is produced by Paris-based Bizibi and has been acquired by Mars Distribution for France
Market premieres: Omar Sy's African Adventure
Basing itself out of filmmaker Claude Lelouch's Club 13 venue during the Rendez-vous, Wild Bunch will also market premiere Philippe Godeau's Senegal-set, Omar Sy-starrer Yao and Allan Mauduit's girl power back comedy Rebels.
In Yao, Sy plays renowned French-Senegalese writer Seydou Tall who returns to his native country. There, he connects with a young boy called Yao who has run away from his village in northern Senegal and travelled 300 km to Dakar to meet his literary hero. Seydou embarks on an adventure-filled journey of self-discovery across Senegal as he accompanies the boy back home.
The film has already sold well internationally and is due to be released by Pathé Distribution in France on Jan 23, 2019, on 250 screens.
The company will also unveil Allan Mauduit's black comedy Rebels starring Cécile de France, Audrey Lamy and Yolande Moreau as three fish-canning factory workers brought together by the accidental killing of their lecherous boss.
When they discover a stash of cash on his body they decide to get rid of his corpse in a gut-churning manner and then flee to the South of France to live the good life. Little do they know that the money belongs to a hardened bunch of gangsters.
"It's a strong female story which chimes with the era of #MeToo," says Diederix.
It is a second feature for Mauduit, who is best known internationally for his hit series Kabul Kitchen. He co-wrote the screenplay with rising genre filmmaker Jérémie Guez. Le Pacte will release the film in France on March 13, 2019.
The company will also market screen Pierre Godeau's previously-announced Jean-Jacques Sempé adaptation Raoul Taburin, starring Benoit Poelvoode as a top bicycle dealer desperate to hide the fact he cannot ride without stabilisers.
It will also show Louis Garrel's love triangle tale A Faithful Man, in which he co-stars opposite wife Laetitia Cast and Lily-Rose Depp.
The film premiered at TIFF and then played at San Sebastian, where it won the Jury Prize for Best Screenplay. Ad Vitam releases the film in France on Dec 26 while Kino Lorber has acquired US rights.
Update on Desplechin, Kore-eda productions
The company will also continue sales on a slew of previously announced French-language titles including Japanese director Hirokazu Kore-eda's mother and daughter drama The Truth and Arnaud Desplechin's crime drama Oh Mercy (retitled from Roubaix, A Light).
Set against the backdrop of Desplechin's native northern French town of Roubaix, detective thriller Oh Mercy stars Zem as an experienced police chief alongside Antoine Reinartz, best known internationally for his performance in AIDS drama BPM, as his rookie sidekick. It follows the pair as they investigate the violent murder of an elderly woman. Léa Seydoux and Sara Forestier play two female social outcasts and lovers who are the prime suspects.
"What's interesting is that Desplechin is coming back with a genre film," says Diederix. "It also marks a change in role for Léa Seydoux. It shows her in a way she has never been seen before. It's a strong female story about two-alcoholic, drug-addicted female lovers fighting against the odds."
Produced by Why Not Productions and Arte France Cinema, the film is currently in production.
Diederix reports that Kore-eda's French-language debut The Truth - starring Catherine Deneuve and Juliette Binoche – wrapped mid-December and that a first promo should be ready for the Berlinale's EFM in February.
Previously announced as The Truth About Catherine, it stars Deneuve as demanding cinema legend Fabienne and Binoche as her long-suffering daughter Lumir, who returns to Paris from her adopted home of New York for a tumultuous mother-daughter reunion.
The cast also features Ethan Hawke and Ludivine Sagnier.
Other upcoming French-language titles
Other upcoming French-language titles on the Wild Bunch slate include Pascal Plisson's new documentary Gogo, following a grandmother living in rural Kenya as she completes her primary school education at the age of 94-years-old to set an example for younger generations.
Wild Bunch expects Gogo to enjoy the same world-wide trajectory as Plisson's previous documentary On the Way To School.
And from outside France, Belgian directors Jean-Pierre and Luc Dardenne's drama Ahmed, exploring the issue of extremism and terrorism through the tale of a young Belgian boy who plots to murder his teacher.
Both titles are expected to be ready for a potential Cannes splash.
The market for Unifrance's annual Rendez-vous with French Cinema in Paris will run Jan 17 to 20 while the accompanying junket event for the international press is scheduled for Jan 18 to 21.