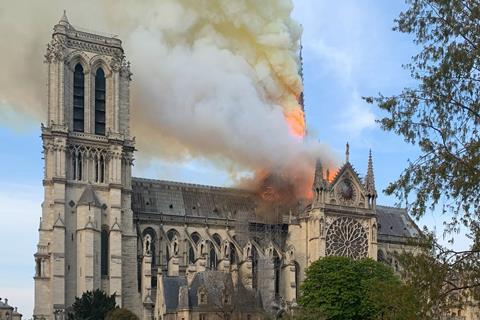 UK novelist and screenwriter William Boyd is writing a screenplay for a TV miniseries about the fire at Notre Dame de Paris cathedral in 2019 for France's Vendôme, with London-based Moonriver TV and France's Pathé, in collaboration with The New York Times.
The series will be a dramatised retelling of the fire that ripped through Notre-Dame on April 15, 2019 and the heroic actions of French firefighters and police officers who risked their lives to save the cathedral from total destruction.
Vendôme CEO Philippe Rousselet and Moonriver TV CEO Xavier Marchand are producing, and Vendôme's co-CEO Fabrice Gianfermi serves as executive producer.
Boyd and Marchand previously collaborated on the 1999 World War One drama The Trench.
"It was really important for us to work with someone who understands just how important Notre-Dame is to the heart and soul of not just the French but to the world," said Rousselet of Boyd.
Boyd divides his time between the UK and France. He is the author of 16 novels and the screenwriter of 18 produced films and television series.
His feature screenplay credits include Chaplin, Aunt Julia And The Scriptwriter, while television series include adaptations of his novels Armadillo (BBC), Restless (BBC) and Any Human Heart (Channel 4). His six-hour Cold War thriller about the construction of the Berlin Wall, Spy City (ZDF/Miramax), is in post-production.