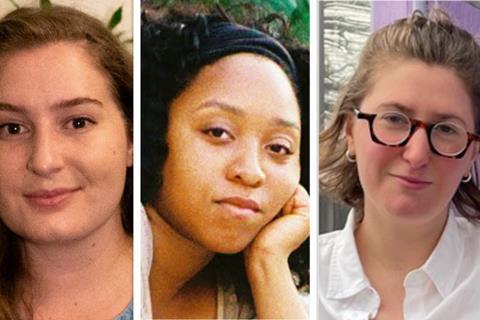 The Horizon Award co-founders Cassian Elwes, Lynette Howell Taylor, and Christine Vachon have announced the winners of the 7th Annual Horizon Awards underrepresented female filmmakers.
Shira Baron and Marian De Pontes will each receive a $2,500 grant, mentorship, and industry exposure for their short films, De Sol a Sol and Etana, respectively.
The filmmakers were told of the awards on a surprise Zoom call attended by Justine Bateman, whose feature film Violet starring Olivia Munn, Colleen Camp, and Justin Theroux will premiere at SXSW Online 2021.
Five runners-up were announced: Maria Alvarez, Godgift Emesi, Roxanne Stevens Ibarra, Tiffany Ike, and Kaya Trefz. Each will receive $500, mentorship, and industry exposure.
This year's mentors include: Elwes, Howell Taylor, Vachon, Spotlight producer Blye Faust, Summer Of Soul producer David Dinerstein, The Rape Of Recy Taylor producer Susan Margolin, producer Alison Emilio, Sundance Feature Film Program director Michelle Satter, and Verve agents, Amy Retzinger and Gina Reyes.
Howell Taylor said: "During an unprecedented year, it was more important than ever for us to honour and support the next generation of female-identifying and non-binary filmmakers. Having so many young women create and submit an incredible number of original, thought-provoking short films during a pandemic is truly inspiring – proving once again that female talent is out there, just waiting for an opportunity."
Zenzele Ojore, who won the 2019 Horizon Award for her short The South Is My Sister's Skin, received the inaugural Rainbow Award and will get help producing her debut feature film. She is currently an MFA candidate at NYU (2022) and received her BFA from Rhode Island School of Design.
Elwes said, "Zenzele is an amazing writer, director, and interdisciplinary artist – it is with great joy that our collaboration will advance Horizon's mission to mentor the next generation of female filmmakers by producing Zenzele's first feature film."