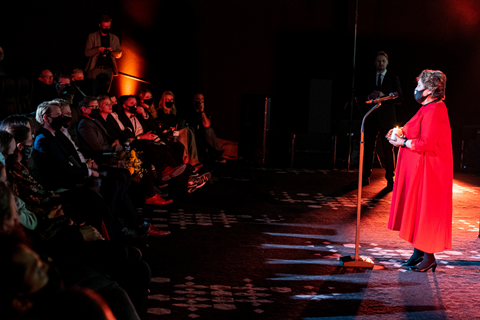 When the Tallinn Black Nights Film Festival in Estonia opened last Thursday November 12, festival director Tiina Lokk stood in front of a socially-distanced, fully masked audience at the Coca-Cola Plaza cinema before a gala screening of Oskar Roehler's Rainer Werner Fassbinder biopic Enfant Terrible.
Images were streamed around the world to accredited guests. For as has become commonplace in 2020, the festival is taking place as a hybrid event this year, with around 80 international guests, down from 1,500 last year.
But on opening night, Lokk admits she was unnerved; after a prolonged period of low infection numbers in Estonia, confirmed Covid-19 cases had nearly tripled from 140 to 376 in the space of 24 hours and the government had just brought in the mandatory rule on face masks.
"My heart was thumping and I was totally lost on opening night, because I didn't know what was going to happen," recalls Lokk, who founded the festival in 1997 and has since seen it recognised as a Class-A festival by FIAPF.
However Lokk says she was quickly reassured by Estonian culture minister Tõnis Lukas, who was present at the opening ceremony, and had previously given the greenlight for Black Nights to host international guests. Lukas told her: "Calm down, calm down. Everything will be ok."
The following day, it was confirmed the 376 cases had mistakenly included test numbers from other days.
Local activities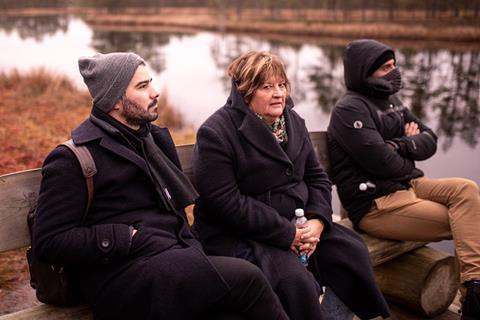 For those making the trip to Tallinn, parties and receptions have been replaced by breathtaking, outdoor "winter swimming", nature trips to ancient Estonian bogs and grilling food in the surrounding forests.
"We have had to get creative with our guests," says Lokk. (International attendees are required to take a Covid test before travelling, quarantine for 24 hours in a festival hotel and then take another test.)
Black Nights is the leading film event in the Baltics. Organisers had been preparing a hybrid physical-online edition of the festival since April when Estonia went into lockdown for the first time as a result of the pandemic.
"I feel it's our mission to show films on a big screen as much as possible and is extremely important for us to bring people back to cinemas," says Lokk.
The festival has made good on that ambition with a selection that includes a record number of 33 world, 29 international, and nine European premieres.
"The programme is very strong this year, with many films that are not built on traditional narratives but images and sensations," says Lokk. "These are the kind of films that have a style and aesthetic that require a big screen."
The main competition is its biggest ever, comprising 25 films, and includes Final Report by Oscar-winning Hungarian filmmaker István Szabó; the world premiere of Mika Kaurismäki's Finnish drama Gracious Night, which The Yellow Affair recently boarded for world sales; and On The Water, from veteran Estonian director Peeter Simm, whose drama marks the first time an Estonian majority production has screened in competition at Black Nights since 2017.
An additional 14 films from Estonia, Latvia and Lithuania will take part in the Baltic competition, while 18 titles from rising talents make up the First Feature competition. A further 13 features will compete in the Rebels With a Cause international competition, dedicated to experimental filmmaking.
There are several films that hold a Cannes 2020 label such as Nora Martirosyan's Should The Wind Drop in the First Feature Competition, Kamen Kalev's February in the Rebels With A Cause competition, and Sharunas Bartas' In The Dusk in the Baltic Competition.
The need to include a major online element to the festival has led to one of its biggest developments amd the festival has built a new digital platform, dubbed X-Road. It offers a virtual screening room for local films and showcases regional production companies and filmmakers while spotlighting the country's locations and services.
"In this case, we can be thankful to Covid as this is something we've dreamed of creating for years," says Lokk of the new platform which will operate year-round.
Black Nights has also introduced a new honorary award, which has been established to recognise diversity in inclusion in cinema. UK filmmakers Armando Iannucci and Francis Annan were the first to receive the DDA Spotlight awards for their respective features The Personal History Of David Copperfield and Escape From Pretoria. Each accepted the honour virtually.
However, Estonian-Canadian cinematographer Alar Kivilo will be present in Tallinn to receive the festival's lifetime achievement award. The DoP, whose credits include Sam Raimi's A Simple Plan and John Lee Hancock's The Blind Side, will be honoured at Black Nights' award ceremony on November 27.
Looking forward, the festival director recognises the benefits of embracing virtual opportunities but stresses the need to get audiences back into cinemas.
"Covid is changing audience paradigms and habits," says Lokk. "It's a new trend that we're thinking about people who buy one ticket to show a film on their home cinema with at least two other people in the room, meaning a loss in our numbers. It's extremely important for us to bring people back to cinemas."