Ukrainian director Maryna Er Gorbach is presenting her film Klondike at Sarajevo Film Festival alongside women who worked on the film, while several men from the production are fighting in the country's defence forces against the Russian invasion.
Producer, cinematographer and Gorbach's creative partner Svyatoslav Bulakovskiy - 'Slava' - has been fighting for his country since the early days of the invasion in February; as have actors Oleg Shcherbina and Oleg Shevchuk.
The trio are in different regiments of the Ukrainian forces, and have avoided physical injury.
Meanwhile, Gorbach has attended Sarajevo this week for the regional premiere of Klondike in the Sarajevo competition, alongside lead actress Oksana Cherkashyna, casting director Tetiana Symon and costume designer Filipova Viktoriia.
"We decided to represent the women and girls on the crew, and to bring our flag," says Gorbach. She says she had a zoom meeting with Sarajevo programmer Elma Tataragic shortly after the invasion began, when Gorbach and her team were distressed by the situation.
"We wanted to upload [Klondike] to YouTube, so as not to feel helpless," says Gorbach. "Elma said 'please be strong – just keep your movie for viewers, you will come [to Sarajevo] with your crew, you will bring your flag, and we will make attention for the film."
Gorbach is in contact with Bulakovskiy about once a week – an increase from the spring, when the more sustained Russian assault meant contact was only possible once a month.
"War started, but life didn't stop," says Gorbach of the early months. "We still had our economic relations with film foundations and people. One time Slava called me; I didn't know where he was, I could just hear from the sound around that he was in a very dangerous place. And he was trying to send me documents, agreements to sign to continue our business.
"Imagine you are still in a war, and when he has five minutes with internet he was trying to manage something about his producer's responsibility. It's so tough."
Klondike premiered at the online Sundance Film Festival in January, where Gorbach won the World Cinema – Dramatic directing prize. It has since been on an extensive festival tour, taking in the Berlinale, Istanbul (where Gorbach lives – the film is a Ukrainian-Turkish co-production), Hong Kong and now Sarajevo.
Set in 2014, the film stars Cherkashyna as a heavily pregnant woman from the Donbas region who witnesses Malaysian Airlines Flight 17 being shot down close to the house she shares with her husband (Sergey Shadrin).
"Generally when filmmakers are premiering their movies, this is their moment of happiness, because you are connecting your feelings with the audience," Gorbach says. "But for us, it's always semi-happiness, because it's so real. It's a very relevant movie for this situation; this is why we cannot be 100% happy."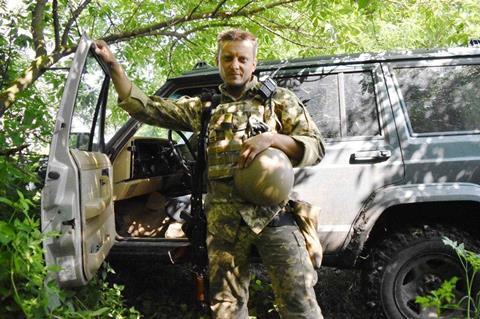 She is still glad that she can "communicate with viewers… not only for the people in Ukraine but the people who are being or have been evacuated. This movie is about their pain."
Berlin-based ArtHood Entertainment handles world sales on Klondike, and has recently wrapped up an all-rights deal for Italy with Invisible Carpet.
Psychology of catastrophe
For Gorbach, one of the major challenges of the last six months has been balancing the need to stay informed, with the paralysing nature of the sometimes terrible news.
"When I wake up, for the last month, I check what has happened in the news. If it's terrible, my day is ruined," she said. "I'm not able to work. Sometimes I plan the day like that: I do my urgent work, and then I check what has happened, because I know if it's something horrible, I won't be able to continue.
"It's very similar to Klondike – that is the psychology of catastrophe."
While international attention may have wavered over the six months, Gorbach says Ukrainians are still living the war on a day-to-day basis.
Her mother was in Kyiv from when the bombing began until May; she was then evacuated, and has been in Sarajevo this week to watch her daughter's film for the first time.
Lead actress Oksana Cherkashyna hails from the eastern part of the country, that continues to be heavily targeted by Russian forces. Cherkashyna has spent much of the last six months helping Ukrainian refugees cross the border and settle into Poland. Her father has remained in the city of Kharkiv, as he is responsible for keeping the heating on for the residents who remain. "He absolutely rejected being evacuated," says Gorbach. Many other crew from the film have been volunteering their time in the relief efforts.
Gorbach is cautious about the utility of film in this dire circumstance; but believes it is the best thing she can do to help. "Film cannot stop war, no way," she said, but "film can change a person. I can only share my feelings. If the film is well-made, it can reach a wider audience."
She is trying to bring that energy to two new film projects. The first is Ferritin, a feature about a group of creative Ukrainians evacuated during the war who try to launch start-up businesses while managing the bureaucracy of the European system [ferritin is a protein inside human cells that stores iron].
Also in the works is a family film about "children's creativity, where the rules of the world are changing every two weeks", written with Ukrainian author Sashko Dermansky. Both projects are at script stage, with the Sundance prize for Klondike helping Gorbach find new partners.
Whatever the future holds, Gorbach won't give up. "It's natural people are tired," she says. "The understand of what is goodness and what is badness is broken right now. But until humans create bombs which can destroy sunset and sunrise, our humanity will have a chance to survive."