Trieste event welcomed 350 industry professionals this year.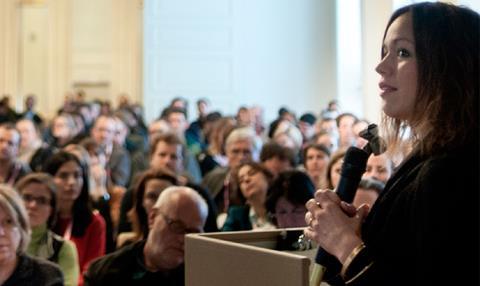 Women producers were the big winners at the seventh edition of Trieste's When East Meets West (WEMW) co-production forum, which was attended by more than 350 industry professional from over 30 countries.
The WEMW jury awarded the CNC Development Award to Italian producer Erica Barbiani for her pitch of Hungarian director Peter Kerekes' new documentary Wishing On A Star.
Two free accreditations to Cannes' Producers Network went to Cecilia Frugiuele for Bosnian filmmaker Una Gunjak's debut feature Alfa and to Georgia's Tekla Machavariani for Marine Gulbiani's documentary Before Father Is Back, about two Muslim girls waiting for their fathers to come home from abroad.
The Turkish producer-director team of Anna Maria Aslanoglu and Nazli Elif Durlu went home with the Flow Postproduction Award for Durlu's feature debut Zuhal.
Film London's Helena Mackenzie and MIA Co-Production Market's Alexia De Vito were in Trieste to present the TRL Espresso Award for the second year running, which gives automatic fast-track selection to one of the WEMW projects so that it can also be pitched at Film London Production Finance Market (PFM) and the MIA/New Cinema Network this autumn.
This award went to Greek-born producer Vicky Miha who was representing the Swedish company Momento Film for Eritrean-born Binyam Berhane's fiction feature debut Madame Luna, about an Eritrean girl trying to escape to Europe, but who is washed ashore in Libya. The screenplay for the €2m drama has been written by Suha Arraf, whose previous credits include Lemon Tree and The Syrian Bride.
The 2017 edition of WEMW also saw the presentation of a new prize - the European Women's Audiovisual Network's Best Woman Director Award - to Italian writer-director Michela Occhipinti who had pitched the fiction project Flesh Out with her producer Marta Donzelli of Vivo Film.
Meanwhile, the EAVE 2017 Producers Workshop Scholarship went to Vienna-based producer David Bohun of Mischief Films, who had come to Trieste to pitch his first fiction feature Queens to be directed by his brother Stefan.
Almost 300 projects were submitted for the pitching forum before being whittled down by an international selection committee, including Slovenian producer Danijel Hocevar, DOK Leipzig's Leena Pasanen and WEMW's Alessandro Gropplero, to 22 projects - 12 fiction feature films and 10 documentaries - from 15 countries.
The 2017 line-up included:
UK producer-distributor Soda Pictures' documentary About The End by Italian filmmaker Cristina Picchi, chronicling the apocalypses we have survived to date and those that might lie ahead.
Afghan-born Siddiq Barmak and George Ovashvili's tragic drama The Pass, to be produced by Ovashvili's new company Wagonnet with France's Arizona Productions.
Estonian filmmaker Kadri Kousaar's fourth collaboration with former Producer on the Move Aet Laigu on her new fiction project Dead Woman about a Western woman journalist being kidnapped during an assignment in Sinai and then falling in love with one of her abductors.
Marija Stonyte's documentary Gentle Warriors about five girls serving in the Lithuanian army, to be produced by director-producer Giedre Zickyte.
The WEMW co-production forum attracted sales agents such as Wild Bunch, EastWest Filmdistribution, Rise&Shine, Loco Films, Pluto Film, New Europe Film Sales and Slingshot Films as well as producers Cedomir Kolar, Jörg Bundschuh, Agnieszka Wasiak, Natalia Drozd, Simone Baumann, and large delegations from the guest regions of France and the Baltic countries.