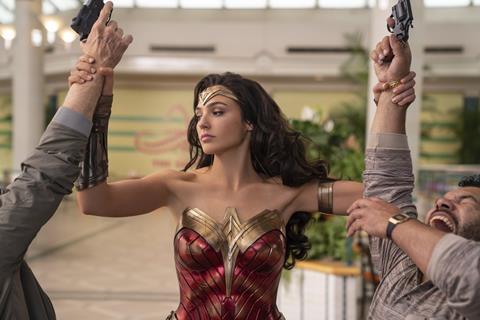 Warner Bros has pushed back the US release of Wonder Woman 1984 from October 2 to December 25 amid ongoing uncertainty over cinema reopenings in the US.
At time of writing Denis Villeneuve's Dune adaptation featuring an all-star cast led by Timothée Chalamet remains on the calendar for a December 18 US launch.
Studio chiefs expect to get approximately half of Wonder Woman 1984's worldwide box office from North America and do not want to proceed while roughly 30% of the US exhibition footprint remains closed, including the key markets of Los Angeles and New York.
2017 release Wonder Woman grossed $821.8m worldwide, of which $412.6m came from North America. Director Patty Jenkins reunites with Gal Gadot as the lead in the sequel comic book adaptation.
Heading into its second weekend in the US Tenet stands at approximately $22m and arrives in several markets that have just reopened in the US, among them Orange County south of Los Angeles, Santa Cruz, Baltimore, New Jersey, and Philadelphia city. Miami is understood to be opening on Monday.