JUNE 5 UPDATE: Director Patty Jenkins, star Gal Gadot drive strong launches in 55 markets; Disney crosses $2bn at international box office; Pirates 5 hits $500m.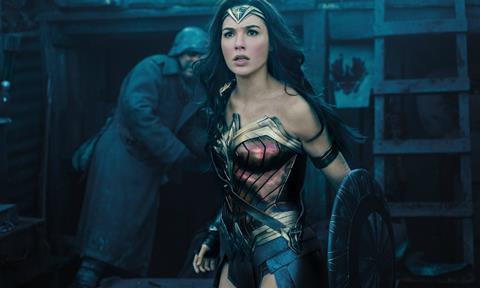 WARNER BROS PICTURES INTERNATIONAL
UPDATE: Wonder Woman brought in $125m on 34,775 screens in 55 markets at the weekend.
In its opening weekend, the film directed by Patty Jenkins and starring Gal Gadot outgrossed Thor 1 and 2, Iron Man 1 and 2, Guardians Of The Galaxy 1 and 2, Doctor Strange, Captain America 1 and 2, Man Of Steel, and Ant-Man.
China produced $38.2m (260m RmB) to rank as the fourth biggest Warner Bros opening ever. The film ranked number in Asia, generating $34.1m for the region excluding China. Indonesia, the Philippines and Taiwan now rank in Warner's all-time top five grossers.
In Latin America, weekend results have exceeded the comparable collective grosses of Iron Man, Ant-Man, Doctor Strange, Thor, Captain America: The First Avenger and Man Of Steel. In Europe, results exceeded comparable collective grosses of Captain America: The First Avenger and Ant-Man. France, Germany, Spain and Holland have yet to open.
The UK generated $7.9m on 1,429 screens, with a 50% share of the top five films in the market, coming in 83% ahead of the number two film Pirates. This exceeded the opening weekend of Thor and Wolverine and almost doubled that of Captain America: The First Avenger.
Mexico delivered $8.4m on 3,533 screens for a 67% box office share of the top five releases.
South Korea generated $8.4m for 40% market share and opened ahead of the comparable opening weekends of Iron Man, Logan, Wolverine, and Thor.
Brazil produced $8.1m for a 65% market share of the top five, while Australia generated $5m, doubling the opening in the same weekend of Baywatch.
Russia delivered $4.4m from 2,406 screens for second place, while Indonesia produced $4.8m.
Wonder Woman dominated the Philippines where $4.7m captured 83% share of the top five. Meanwhile, Taiwan produced $4.7m on 323 screens for 62% market share.
Wonder Woman opens next in France on June 7.
King Arthur: Legend Of The Sword added another $4.1m in 64 territories to bring the running international tally to $93.1m.
Top markets for Guy Ritchie's action-adventure are Russia on $11.8m, China $8.1m, Mexico $5.8m, UK $6m, Germany $5.2m, France $5m, and Brazil $4.6m.
Australia has reached $3.7m, South Korea $3m, Indonesia $3m, UAE $2.1m, and Italy $2.1m. Japan is the next territory to open on June 17.
Wonder Woman delivered $9.3 mil on 665 IMAX screens, including $4.5 mil from 401 screens in China. Wonder Woman is the second-biggest DC opening overseas for IMAX, behind Batman V Superman's $16.7m and ahead of Suicide Squad's $7.2m.
WALT DISNEY STUDIOS MOTION PICTURES INTERNATIONAL
UPDATE: Pirates Of The Caribbean: Dead Men Tell No Tales added $80.1m in 54 territories for $392.9m. The film now stands at $508m worldwide.
Joachim Rønning and Espen Sandberg's film is now the number six release of the year globally as it crosses the $500m.
On the success of Pirates Of The Caribbean 5, The Walt Disney Studios surpassed the $2bn international mark on June 4, the eighth consecutive year the company has hit this milestone. The company has earned $1.155bn in North America, $2.055bn internationally, and $3.21bn globally.
Internationally, Pirates Of The Caribbean: Dead Men Tell No Tales held the number one spot in 24 territories, including Germany, France, Italy, and Argentina.
Pirates held the number one spot in France, Germany, Italy, Spain, and more, and nearly all of Eastern Europe despite new openers Baywatch and Wonder Woman.
Looking at the same suite of markets at today's rates, Pirates Of The Caribbean: Dead Men Tell No Tales is currently running 22% ahead of Pirates 4 and 29% ahead of Pirates 3.
As the top market, China has generated $143.6m in 10 days and is Disney's fourth biggest film in the market. In Russia, Pirates was the number one film again for the second straight weekend for a $31.4m market total and making it the number two Disney live action film of all time in the market.
South Korea is the next top market on 17.9m, followed by the UK on $16.8m, France $15.5m, Germany $15.7m, Mexico $12.3m, Brazil $10.7m, Italy $10m and Spain $8.5m.
Australia has generated $7.5m, Taiwan $6.4m, Indonesia $5.4m, India $5.1m and Argentina $5m.
Marvel's Guardians Of The Galaxy Vol. 2 stands at $5.2m from 50 territories for $461.9m internationally.
James Gunn's sequel displayed good holds in its sixth weekend, including the UK down only 28%, Germany down 33%, Spain down 38% and France down 40%. Overall, the European region was down just 42%.
China is the top market on $99.3m, followed by the UK on $51.3m and Germany on $28.2m. Russia stands at $27.7m, while France has reached $23.7m. Brazil has $20.8m and South Korea $20.7m.
Beauty And The Beast added $3.3m from its 20 remaining territories for $739.1m.
In Japan, the live action film earned $2.7m for $92.8m in its seventh weekend, decreasing just 10% from last weekend.
Japan is the top market, followed by the UK on $90.2m, China on $85.8m, Brazil $41.5m and South Korea $37.5m
PARAMOUNT PICTURES INTERNATIONAL
UPDATE: Baywatch debuted in 31 new markets grossing $25.2m. The film starring Dwayne Johnson and Zac Efron stands at $26.9m internationally.
The opening weekend gross in the same batch of markets is 36% above Central Intelligence, 26% above Spy and 15% above 22 Jump Street.
The UK was the top market after earning $6m for third place. Germany opened at number two on $4.4m, followed by Australia with $2.7m for second place. Russia earned $1.8m, India grossed $1.6m, and Italy generated $786,000.
Hong Kong delivered $709,000, Malaysia $651,000 (the biggest 18-rated comedy opening in the market) and Singapore $474,000.
Brazil, Mexico and Spain are the next territories to release on June 15.
FOX INTERNATIONAL
UPDATE: Alien: Covenant discovered $3.9m from 72 markets. The sci-fi held in Germany on $589,000 for $4.7m (down 33%), Spain on $189,000 for $3.9m, and Holland on $139,000 for $1m (down 30%), taking the international running total to $106.7m. The film will debut in China on June 16.
Logan opened in Japan on $2.5m. The opening weekend was 18% bigger than that of The Wolverine and the overall international total is now $386.2m.
Meanwhile, The Boss Baby delivered another $2.7m from 56 markets for $312.6m. The animation comedy held strong in the UK on $375,000 for $34.9m (up 32%), while Argentina generated $329,000 for $7.6m and ranks third, while France added $249,000 for $24m (down 18%).
Family offering Diary Of A Wimpy Kid: The Long Haul earned a further $1.7m from 19 markets, bringing the film to $6.7m. The UK increased by 16% over last weekend on $1.1M for $5m, while Germany debuted on $297,000.
The film is on par with Dog Days and tracks 12% ahead of Rodrick Rules at the same point of release at current exchange rates.
Launching in eight markets over the weekend, Captain Underpants: The First Epic Movie earned $747,000. Portugal debuted on $315,000, Turkey brought in $153,000 and Denmark produced $214,000. Captain Underpants opens in Norway and Spain this week.
Snatched generated $518,000 from 10 markets. There were solid holds in Australia on $212,000, and the UK on $134,000, driving the international total to $10.6m. Upcoming releases include Germany on June 15 and Taiwan on June 16.
Yoon-Chul Chung's Warriors Of The Dawn, from Fox International Productions, opened on $4.1m in South Korea for third place.
UNIVERSAL PICTURES INTERNATIONAL
UPDATE: Universal and Blumhouse's Get Out, from Jordan Peele, grossed $3.4m in 37 territories for $72m. When combined with North America's $175.4m, the worldwide total is $247.4m.
South Korea is the top grossing market, holding at number five in week three on $1.3m for $14.6m. Spain held at number two in week three on $483,000 for $3.2m.
Meanwhile, Mexico generated $341,000 for a total of $1.6m to rank fourth in its second week. The UK has amassed $12.7m, France has reached $8.2m and Australia $4.4m.
The Fate Of The Furious grossed $1.6m in 58 territories to raise the international total to $1.005bn. It is the sixth highest grossing film of all time internationally and the sixth film to cross $1bn internationally. F. Gary Gray's tentpole is the 11th highest grossing film of all time worldwide on $1.229bn.
Japan is the top holdover at number three in week six on $502,000 for $34.3m. It is the highest grossing of all the Fast And Furious films in Japan.
In China, the film has grossed $387.5m (2.7bn RmB). It is the highest grossing foreign film of all time in China.
Top grossing territories are Brazil $41.8, the UK $37.5m, Mexico $36.3m, Germany $32.3m, France $29.7m, Russia $29.1m, South Korea $27m, Middle East $22.3m, Australia $21.4m.
Additionally, Taiwan has reached $21.4m, Argentina $20.7m, India $19.8m, Indonesia $19.3m, Italy $15.8m, Spain $14.4m, Colombia $12.7m, Malaysia $12.2m and Panama and Central America $11.5m.
Next week, Universal's The Mummy hits IMAX screens in 63 territories worldwide including China and North America.