EXCLUSIVE: Dylan Thomas drama starring Elijah Wood gets UK sales company.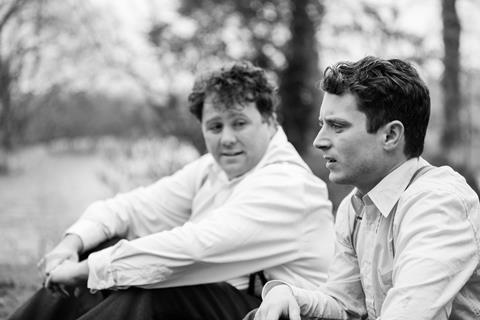 UK sales outfit The Works International has picked up rights to Dylan Thomas drama Set Fire to the Stars, which will receive its world premiere at the Edinburgh Film Festival next week (June 23).
Based on John M Brinnin's account of the hell-raising poet's first visit to New York in 1950, the film is the feature debut of director Andy Goddard (Downton Abbey) and stars Elijah Wood, Celyn Jones, Kelly Reilly, Stephen Mackintosh and Shirley Henderson.
Written by Andy Goddard and Celyn Jones and produced by A J Riach (Battle of the Sexes) and Andy Evans, the drama is a Mad as Birds Films presentation.
Wood will attend the EIFF premiere, along with Jones and Goddard. Following the screening there will be a performance from Gruff Rhys, lead singer of the Super Furry Animals, who composed the original score for the film.
Clare Crean, head of sales at The Works told ScreenDaily: "We were blown away by the wonderful performances of Elijah Wood and Celyn Jones, and combined with Andy Goddard's unique storytelling, we believe they have delivered something truly special in this, the centenary year of Dylan Thomas."
Pauline Burt, chief executive of Ffilm Cymru Wales, who co-funded the film, said: "This wonderfully evocative and stylish film, which is accompanied by a stand-out jazz soundtrack, captures a period of Dylan Thomas's life that many people won't know about."
October 2014 marks a century since the birth of Welsh poet and writer Thomas, whose works include poem Do Not Go Gentle Into That Good Night and 'play for voices' Under Milk Wood.